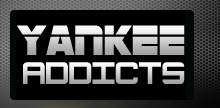 March 14, 2010 · Bronx Baseball Daily · Jump to comments
Article Source: Bleacher Report - New York Yankees
Most people have heard of him by now, Yankees prospect switch-pitcher Pat Venditte . Switch pitcher means he can throw with both his right and left hands, and so far in his Yankee career he's done so quite well with both arms putting up a 2.34 FIP as a right hander and a 2.26 FIP as a lefty.
Well Venditte is scheduled to be a guest on Yankees Daily's blogtalkradio show on March 16 and it got me thinking about Venditte.
Not only is it exciting to see someone use both hands while on the mound he's one of the nicest people I've met in my young career as a journalist.
He also was a big part of one of the funniest moments I've seen on the baseball field: the first time a switch-pitcher faced a switch-hitter in a professional regular season game (Roy White faced a switch-pitcher in a spring training game in the 70's).
As luck would have it, the game was actually televised on TV. So I thought I'd share it with you:


Immediately after this game there was a rule change. Now the pitcher is responsible for choosing which side he's going to throw with. Once he steps on the rubber he is allowed to change only one time.
If I remember the rule correctly, the batter can change as often as he wants before the at bat starts and only once during an at bat.
So this situation isn't likely to happen again unless an umpire is unprepared during a game in which he appears, but Venditte typically attracts a lot of attention wherever he goes.
Related Stories
Read more New York Yankees news on BleacherReport.com