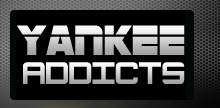 April 25, 2010 · Bronx Baseball Daily · Jump to comments
Article Source: Bleacher Report - New York Yankees
If you missed the game, or our post about it, here's what happened: In the top of the third inning of Friday night's loss to the Angels, with Mark Teixeira at second, Robinson Cano singled to right. Tex came around third and there was a collision at the plate with Texas catcher Bobby Wilson. The consequence was a concussion and an injured ankle.
(Click here to view this video).
I slowed it down and watched it closely, here is my analysis:
Wilson was stationed behind the plate and at this point is in no way blocking the plate. The throw was kind of weak and bounced twice before it got to Wilson. After the first bounce, Wilson starts to turn towards Teixeira to tag him, but by the second bounce Wilson starts to block the plate and the ball bounces away from him. Before it is clear that Wilson is not going to make the play, Wilson is in front of the plate and Teixeira starts going for the hit. Wilson then misses the play and is left open because he is reaching for it. By this time Teixeira has committed and takes him out.
I don't think Teixeira meant anything wrong at all. If Wilson had been able to catch the ball, he wouldn't have been as open for a big hit. By the time Teixeira realized he wasn't going to make the play it was too late.
What do you think now that you've gotten another chance to see the play?
Related Stories
Read more New York Yankees news on BleacherReport.com