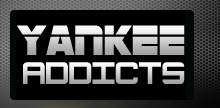 April 8, 2010 · Dan Hanzus · Jump to comments
Article Source: Bleacher Report - New York Yankees
If you're a Yankee fan, there was plenty to be excited about following Wednesday's 2-1 rubber-game win against the Boston Red Sox at Fenway Park.
Curtis Granderson looks like a stud. Mo was Mo. The bullpen put it together. Nick Johnson didn't get hurt.
On balance, it was a successful beginning to the championship defense.
But ironically, it would be comments by longtime umpire Joe West that provided the biggest headline after the season's first series was through.
"They're the two clubs that don't try to pick up the pace," said West, the chief of the crew working the series. "They're two of the best teams in baseball. Why are they playing the slowest?"
"It's pathetic and embarrassing," he continued. "They take too long to play."
As a Yankees blogger, I suppose this is the part where I'm supposed to call West an idiot, or fat, or possibly make a humorous quip about his country music career.
But I won't do any of this because West is absolutely right.
We live in an accelerated culture where four hours is not an acceptable time for anything . Baseball games are not meant to be four hours. They're not even supposed to be three.
Watching the league's two marquee teams slog their way through 19 regular-season games only reinforces the idea that baseball is the dinosaur of the American sports landscape.
In truth, this isn't really the fault of the Yankees or Red Sox, though, massive targets that they are, it makes sense. The blame should really go to the league itself, which has slowly watched games increase in length for 20 years and has done nothing about it.
Watching a Yanks-Sox game is like listening to the 1997 Oasis album Be Here Now . Sure, there are plenty of enjoyable parts, even moments of transcendence, but at a certain point the bloat of the overproduction starts to weigh the whole thing down.
Noel Gallagher was a raging cokehead when he recorded that album. What's Bud Selig's excuse?
A suit at 245 Park will probably rip West a new one for publicly chastising the league's two biggest moneymakers, but that will likely be the extent of the fallout.
The fact that the Yankees and Red Sox both have off days will probably give the story a bit more legs, but with Tiger's heroic comeback transfixing sports fans and soccer moms alike, a very serious problem for baseball will continue to be overlooked.
It's too bad. West's comments could serve as an ignitor for real change that will help the sport and make the games more fun to watch. Unfortunately, baseball's aversion to refinement will likely trump all.
Pathetic and embarrassing, indeed.
Dan Hanzus writes the Yankees blog River & Sunset and can be reached via e-mail at dhanzus@gmail.com. Follow Dan on Twitter at danhanzus .
Read more New York Yankees news on BleacherReport.com