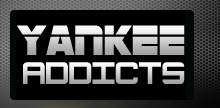 News published by
March 28, 2011
Spring training is mercifully reaching its conclusion. Maybe it's just me, but Yankees camp felt especially long this year. I'm guessing many of the veterans feel the same way. Except ...
March 21, 2011
For the first time in almost a decade and a half, Alex Rodriguez is not being taken in the first round of fantasy drafts.Think about that for a second. A-Rod ...
March 16, 2011
Every two years or so, a glossy men's magazine will profile Derek Jeter. Like death, taxes and Adam Sandler comedies with melodramatic courtroom climaxes, it's inevitable.I surmise the goal of ...
March 8, 2011
Is it really fantasy baseball season again?I'm still exhausted from last year, when the struggles of Mark Teixeira had me acting like the overstressed black police captain in every 1980s ...
March 4, 2011
I've found, in my two-plus decades of baseball fandom, that the key to spring training coverage is to arm yourself with a ruthless filter.The quicker you understand that 70 percent ...
March 2, 2011
We all have regrets. Some of us more than others. Take your author for example. While I was in Miami for a bachelor party last weekend, my girlfriend was in Boston ...
February 28, 2011
It was the snapshot that summed up a season: A.J. Burnett standing on the mound in disbelief, his hands on top of his head, while a pumped up Bengie Molina ...
February 24, 2011
Considering how many Yankees had sub par seasons by their standards in 2010, it can be considered a minor miracle the team came within two games of returning to the ...
February 22, 2011
At this point in the game, we've learned three irrefutable truths about Yankees co-chairman Hank Steinbrenner.1) His stance on recreational nicotine use stands in sharp contrast to the Surgeon General's.2) ...
February 17, 2011
It started out innocently enough.Last Wednesday, Joba Chamberlain was among several Yankees pitchers to report early to the team's spring complex in Tampa, and some beat writers on the scene ...