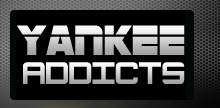 April 14, 2010 · Perry Arnold · Jump to comments
Article Source: Bleacher Report - New York Yankees
Perfection is a word that must be used cautiously.
And perfection in the sense intended here does not mean always perfect.
Every fan of the New York Yankees can remember a base hit in the bottom half of a ninth inning of a seventh game of a World Series in 2001 when we all felt our team would win because Mo was closing.
We can also remember home runs in crucial games in Fenway Park which we could not believe Number 42 had actually given up.
But Mariano Rivera is perfection.
Mariano Rivera is the perfect closer.
His record is not without stains, but he is still perfect.
An analysis of the numbers brings some clearer cognition, but not justice, to the role Mariano Rivera has played.
In yesterday's home opener at Yankee Stadium, Rivera came into the game and closed it out for the Yankees just as he has 528 other times in the regular season in pinstripes.
It was his third save in four appearances this season. He has not allowed a run and has only allowed two hits in these four appearances.
Last season, in 66 appearances, Mo only allowed 48 hits and 14 runs. His ERA for 2009 was 1.76.
His ERA in 2008 was 1.40.
What all Yankee fans would like to forget is that Mo is now 40 years old.
When he compiled that ERA of 1.76 last year, he was 39. In 2008, he would have been 38.
But age so far has made no difference to Mariano Rivera.
Over his 15 years pitching in the cauldron that is Yankee Stadium, nothing has really made a difference to Mariano Rivera.
Much has been said of the fact that he is so great with just one pitch. Every batter knows what is coming and, with rare exceptions, it simply makes no difference.
Baseball will never see the likes of Mariano Rivera again. He has said that he might pitch for five more seasons.
There is no reason to doubt him. There is no reason to believe he cannot replicate his current performance at age 45. With any other mortal that might seem incredible, but not with Mariano Rivera.
Fans should all treasure whatever time the Yankees have left with Mariano Rivera because we will never see perfection like his again.
Read more New York Yankees news on BleacherReport.com