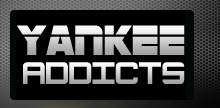 March 30, 2010 · Dan Hanzus · Jump to comments
Article Source: Bleacher Report - New York Yankees
Finding unsung heroes in the Yankees' landscape is difficult business.
If you do something noteworthy in New York, chances are you'll be remembered for it. Just ask Aaron Boone, who will be signing photographs of aging knuckleballers for the rest of his life.
This isn't a bad thing, mind you. Boone deserves his fame, just like Stéphane Matteau, Jim Leyritz, and Mookie Wilson deserve theirs.
Combine a knowledgeable fanbase and a competitive media contingent and you get a hyper-aware sports town. Simply put: We don't forget.
(John Starks can tell you this goes both ways.)
Of course, not everyone gets their proper due. The Yankees have been in existence for more than 100 years, and there will always be players who slip through the cracks. We can't all have a movie about our life starring John Goodman, you know.
The following is a list of unsung heroes in Yankees history.