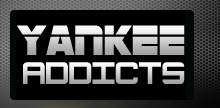 June 11, 2009 · Harold Friend · Jump to comments
Article Source: Bleacher Report - New York Yankees
Mickey Mantle played semi pro baseball at the age of 17 for the Baxter Springs Whiz Kids.
Early in 1948, the Whiz Kids' manager, Barney Barnett, who had recruited Mickey for his team and had assured Mickey's father, Elvin "Mutt" Mantle that he would help his son become a professional, asked Yankees' scout Tom Greenwade to watch Mickey play.
The First Time Tom Greenwade Scouted Mickey Mantle
In August, Tom Greenwade attended a Whiz Kids in a game at Alba, Missouri.
One of the Whiz Kids' pitchers was little Mickey Mantle, who also played some shortstop.
Greenwade later said, "He was kind of a bitty thing and not too much to see."
Greenwade was more impressed with the Whiz Kids' third‑baseman, a youngster named Billy Johnson, who would play third base for the Yankees in the late 1940s.
Tom Greenwade Didn't Remember Mickey
Neither Barney Barnett nor Mickey heard from Tom Greenwade for almost a year.
Johnny Sturm, who had played first base for the 1941 Yankees, invited Greenwade to see Mickey Mantle a second time. When Sturm mentioned Mickey, Greenwade showed no immediate signs of recognition.
Years later he admitted, "I can honestly say I wasn't too high on Mickey then."
Three Home Runs But Greenwade Wanted to See More
The Yankees' scout saw Mickey again, but this time he saw a Mickey Mantle who had gained 20 pounds without sacrificing any of his great speed.
Mickey hit three home runs, two right handed and one left handed, but Greenwade wanted to see more.
The Whiz Kids were going to play a Friday night game that Greenwade wanted to see, but there was a problem. Mickey couldn't play because he was supposed to receive his diploma that night.
Mickey's high school baseball coach, John Lingo, intervened.
Some High School Politics
"We all knew how much Mickey's father wanted the boy to get his chance, so I talked to Albert Stewart, our superintendent of schools, and he saw it our way. Friday came and he handed Mickey his diploma in advance and told him he was graduated and we were on our way."
Junk Food?
Lingo and Mickey went to eat before the game. Mickey was naturally nervous and had trouble ordering. He asked Lingo what he should have.
"What have you always been eating before a game? This one's no different than the others," Lingo said.
Mickey had a hamburger, french fries and a large glass of milk.
Sunday in Baxter Springs
After making two errors at shortstop early in the game, Mickey hit a single, double and triple in four at—bats. Greenwade still didn't seem overly impressed.
In the fourth inning, Lingo asked him for his thoughts. "I think I've seen enough."
After the game, he wanted to see Mickey play yet another time. He did and years later said, "That Sunday in Baxter Springs it hit me. Then I was sure."
Unbelievable
Every fan knows that Mickey was the greatest switch—hitter in baseball history, and that Tom Greenwade was a great scout. Even individuals who have become legends were human.
Each time Greenwade had seen Mickey hit, he had faced a right handed pitcher. Then in the Sunday game, the Whiz Kids faced Carl Pevehouse, who threw left-handed.
The following exchange between Tom Greenwade and Elvin "Mutt" Mantle is unbelievable.
The first time Mickey came to the plate, Greenwade turned to Mutt. "He do that all the time?" Greenwade asked.
"Been doing it since he was high's my knee," Mutt said. "I made him do it. He hits as well one way as another."
It took almost a year before the scout who "discovered" Mickey Mantle realized that Mickey Mantle was a switch—hitter.
He Knew Immediately?
Tom Greenwade's hesitancy in crowning Mickey Mantle a future all—time great has not been popularized.
When Greenwade was finally convinced about Mickey and the Yankees signed him, Greenwade made it sound as if he always knew how great Mickey could be.
"Every scout keeps thinking of the moment he will set eyes on the ball player he always dreams about. (Paul) Krichell once told me that when he saw Gehrig he said to himself, 'I'll never have another minute in my life like this one.' I guess that's how it was with Mantle."
Reference:
Gross, Milton. Mickey Mantle: New Pride of the Yankees