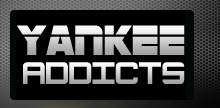 June 9, 2009 · Joseph DelGrippo · Jump to comments
Article Source: Bleacher Report - New York Yankees
I just read that Paul Bush, a recent independent league pickup, will get a second start for Triple A Scranton Wilkes-Barre. The main reason is not because of Bush's superior talents (he has none) or long term prospects (at 30 years of age?), but that Scranton doesn't have a fifth starter.
Scranton doesn't have a fifth starter due to injuries (Ian Kennedy), promotions (Phil Hughes and Alfredo Aceves) and trades (Eric Hacker to Pittsburgh).
The current four-man rotation at Scranton includes Kei Igawa, Josh Towers, Casey Fossum, George Kontos and now Paul Bush. That is four pitchers who will never see the light of day in the Bronx.
Only Kontos, a fifth round pick in that great 2006 Yankee draft, has any chance with New York. And even if he continues to perform well at Triple A, because of the Yankee glut of young pitching, he is likely to be packaged in a trade. As a 2006 college draftee, Kontos also needs to be put on the 40-man roster by November or the Yankees risk exposing him to the Rule 5 draft this winter.
Kontos was promoted in early May and has progressed well at the higher level. Another pitcher from that 2006 class needs to be promoted to Scranton now.
That pitcher is Zach McAllister, a 21-year-old strike throwing machine who is currently dominating the Double A Eastern League. In 10 starts for the Trenton Thunder, McAllister is 5-2, 1.61 ERA, a WHIP of 1.10 and a .220 BAA (batting average against). However, in his last 5 starts, while averaging 6.2 IP per, he is 4-1, 0.79 ERA and a 1.02 WHIP. He has improved over the course of the season as the weather is getting better, usually a time for the hitters to thrive!
However, Mark Newman, Yankees VP of Baseball Operations, is not on board with a quick promotion. "It's all about development," Newman said. "We're not going to push him to Triple-A to fill a Triple-A spot before he's ready." It looks to me like McAllister has developed very nicely at Double A and needs that push. In fact, Newman should look no further than last season for precedence in promoting McAllister quickly.
Last season McAllister made 10 starts in Low A Charleston (6-3, 2.45 ERA, 1.08 WHIP, .245 BAA) before being promoted to High A Tampa. After 10 starts he is more dominating this season at the Double A level, yet the Yankee brass thinks he is not ready?
This is a similar situation, in the same exact time frame from last year. There is no reason not to push him, especially with the aging garbage the Yankees have in the Triple A rotation.
I know many teams (ie: the New York Mets) like to stockpile veteran pitchers at Triple A just in case of injuries hit the big club. The Mets even had Fossum for a short while this year before releasing him. I prefer to go in a different direction, and let your top young pitchers perform at that high Triple A level, and promote them instead of a washed up relic.
There is absolutely no need for the 30-year-old Bush, 31-year-old Fossum or the 32-year-old Towers to get starts in Scranton, and don't even get me started on the 35-year-old Jason Johnson (56-100, 4.99 ERA in career), who the Yankees signed this past winter and has made a handful of Triple A starts.
All those thirtysomething guys flat out stink and they will not be in the Yankees plans, so why have them in Triple A? I know why Igawa is still there, but the others need to be let go. In case of a rash of injuries, those holes can always be filled by other older losers. You think teams are going to jump on Josh Towers if the Yankees release him?
In fact, the Yankees should also promote the 22-year-old Ivan Nova, too, who has a 4-3, 3.12, 1.50 WHIP at Trenton. Like McAllister, Nova has gotten better as the year has progressed, averaging an out under 6 IP per, going 2-1, 1.90 ERA, 1.31 WHIP in his last four starts. Nova was a Rule 5 selection of the San Diego Padres off the Yankee roster, but they returned him after Nova posted a sub par Spring Training.
The Yankees have too many good, young arms they can promote another level to get the extra experience versus better hitters. While young hitters should be moved along more slowly, it is always better to promote and advance young pitching quickly. Pitchers can adjust to hitters better than the other way around.
Good young pitching is the biggest marketable commodity in baseball and it is imperative to develop them quickly. The pitcher position is always more susceptible to injury and the more quality pitchers a team has at the higher minor league levels, the better they can withstand the inevitable injuries.
In case of an injury, I would rather have a young studs like McAllister and Nova ready to move up than a Casey Fossum or Josh Towers. The Yankees have too much depth right now with six major league starters (including Phil Hughes) plus converted starter Aceves in the bullpen for the need to have 30+ year old pitchers in Triple A.
It is time to move up McAllister (and probably Nova) now, rather than later. The precedence was already set last season.