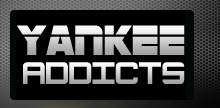 April 27, 2009 · Jordan Schwartz · Jump to comments
Article Source: Bleacher Report - New York Yankees
It all started with a simple bunt.
Involved in a pitcher's duel, the Tigers' Curtis Granderson decided to drag bunt to get on base in the bottom of the sixth.
He reached, and his teammates followed with an RBI double and a two run homer to break the game open and take a 4-0 lead.
Back in the third inning, Jose Molina led off for the Yankees with a single to shallow center.
Ramiro Pena followed, entering the at bat with two hits in 13 career at bats.
First, Joe Girardi put the bunt on, then took it off, then put it on again, and then took it off.
The final result was a strikeout, and needless to say, New York didn't score.
In the next frame, the Bombers got their first two men aboard. I understand Robinson Cano has been the team's hottest hitter, but when you're down 1-0 to a guy who is in the middle of a nine strikeout, no walk performance, even your middle of the lineup guys might want to think about sacrificing.
Cano didn't and, again, the Yankees didn't score.
The same situation arose in the eighth when Pena and Derek Jeter each started the inning with singles.
At that point, the Yanks were down 4-0, but a bunt would've put two guys in scoring position, allowing Mark Teixeira or Hideki Matsui to drive in a pair with a single and cut the lead in half heading to the ninth.
Johnny Damon flew out and New York didn't score.
When you're without two of your better hitters, you're facing a pitcher who's completely locked in, and you haven't mustered an extra base hit in 17 innings—it may be time to play some small ball and find other ways to get the offense going.
Here are the grades from the Yankees' 4-2 loss to Justin Verlander and the Detroit Tigers:
Joe Girardi, Manager: (D+) Girardi didn't play enough little ball, but he once again allowed CC Sabathia to put the team in a position to win.
Of course New York's first complete game would come in a loss.
Derek Jeter, SS: (C-) The Captain was 1-4.
Johnny Damon, LF: (F) Maybe I was wrong to want Damon back in the lineup.
He went 0-4 with four left on base and misplayed a couple balls in the outfield.
Mark Teixeira, 1B: (C-) It's never good when a 1-4 day increases your average.
Hideki Matsui, DH: (C-) Back in the middle of the lineup where he belongs, Godzilla went 1-4 with two K's.
Robinson Cano, 2B: (A) Cano continued his hot hitting, going 2-4 with a double and a run scored.
Nick Swisher, RF: (C+) Swisher went 1-4 with an RBI and a run scored in the ninth, and he even ran through a wall for the team on Magglio Ordonez's home run in the sixth.
Melky Cabrera, CF: (C-) Cabrera went 1-4 with two strikeouts and left three runners on base.
Jose Molina, C: (B+) Molina went 1-3 with a strikeout and stayed in the game after taking a hard foul ball off the right shoulder.
Ramiro Pena, 3B: (A) The rookie doubled his career hits total going 2-4.
Jorge Posada, PH: (F) How slow is this guy?
With the Yankees mounting a rally against one of my fantasy closers, Fernando Rodney, Posada bounced into one of the slowest developing double plays of all time.
Stop looking at the ball and run to first, Jorge.
CC Sabathia, SP: (B-) Other than a rocky sixth, Sabathia pitched pretty well.
He struck out seven, and most importantly, he didn't walk a single batter. Too bad the team didn't give him any run support.
Yankees Overall Grade: (D+) First they can't pitch, and now they can't hit. Look for the defense to do them in Tuesday.
Jordan Schwartz is Bleacher Report's New York Yankees Community Leader. His book "Memoirs of the Unaccomplished Man" is available at amazon.com, barnesandnoble.com, and authorhouse.com.