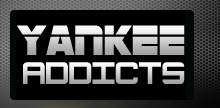 April 26, 2010 · Jordan Schwartz · Jump to comments
Article Source: Bleacher Report - New York Yankees
The Yankees are off to a great start at 12-6, but that record is primarily in spite of their offseason moves, not because of them.
New York made two big trades this past winter, while swapping out two free agents for two new ones.
Let's see how those moves are working out three weeks into the season.
Curtis Granderson for Austin Jackson, Ian Kennedy, and Phil Coke
The Yankees acquired Granderson in a three-team deal that sent top outfield prospect Jackson to Detroit along with lefty reliever Coke, as well as starter Kennedy to Arizona.
Granderson got off to a hot start, but has cooled down recently to settle his average down around where it was last year at .246. The main concern for the center fielder coming in was his struggles against left-handed pitching, which have continued as he currently sits at .238.
But proponents of the deal said Granderson would take advantage of the short porch in right field at Yankee Stadium. He's only played six home games so far, but the lefty hasn't homered there yet and he only has two long balls and seven RBIs overall. Nevertheless, he has contributed nicely on the basepaths with four steals and two triples.
Jackson, meanwhile, is leading all American League rookies with 25 hits, five doubles, two triples, six RBIs, three steals and seven walks. He's hitting .316 and picked up his first career homer on Sunday vs. the Rangers. The only negative is that he's leading the league with 30 strikeouts.
Not too many Yankees fans were broken up about parting ways with Kennedy or Coke, but the starter is 0-1 with a 4.43 ERA in four starts for the D-backs (better than Javier Vazquez), and the reliever is 2-0 with a 1.93 ERA in 9 1/3 innings for the Tigers (better than Damaso Marte).
Trade Grade: C-
Javier Vazquez and Boone Logan for Melky Cabrera, Mike Dunn, and Arodys Vizcaino
The Bombers have only lost six games and three of them came in Vazquez's starts. The right-hander is 1-3 with a 9.00 ERA, but this shouldn't come as too big of a surprise because he has always been a mediocre pitcher in the AL. The sad thing is that he's taking Joba Chamberlain's spot in the rotation.
Vazquez was promised to be an innings-eater, but he's averaging just five innings per start.
In limited action, Logan has allowed three hits and a walk, but no earned runs in 2 1/3 frames.
At Triple-A Gwinnett (Braves), Dunn has surrendered just one run on five hits and two walks in seven innings for a 1.29 ERA and a 1.00 WHIP.
At Class A Rome (Braves), Vizcaino is 2-1 with a 4.24 ERA in three starts.
The only thing that is making this trade a little bit better than the Granderson deal is that Cabrera has been just as bad as Vazquez. The outfielder is hitting .153 with no home runs and two RBIs.
Trade Grade: C
Randy Winn and Nick Johnson signed to replace Johnny Damon and Hideki Matsui
Winn is 0-for-10 with four strikeouts, while Johnny Damon is hitting .323 eight RBIs and a steal, but Brett Gardner's performance must also be factored in because he's the guy who's actually replacing Damon in left field.
Gardner is off to a great start, hitting .327 with five RBIs and nine steals, so general manager Brian Cashman isn't looking too bad there because he saved some cash.
The designated hitter position is a different story. I'm a big fan of Johnson and while I wanted the Yankees to re-sign Matsui, once they didn't, I was glad they picked up Johnson as a replacement. However, while the DH is drawing walks for a .375 on-base percentage, he's hitting just .135 with one homer and five RBIs out of the No. 2 spot in the order.
Matsui, on the other hand, is batting .293, slugging .533 and has picked up four homers and 11 RBIs.
Grade: D+
Follow me on Twitter at JordanHarrison .
Jordan Schwartz is one of Bleacher Report's New York Yankees and College Basketball Featured Columnists. His book Memoirs of the Unaccomplished Man is available at amazon.com, barnesandnoble.com, and authorhouse.com.
Jordan can be reached at jordanschwartz2003@yahoo.com
Read more New York Yankees news on BleacherReport.com