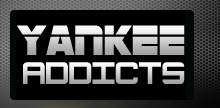 March 22, 2010 · Bronx Baseball Daily · Jump to comments
Article Source: Bleacher Report - New York Yankees
Yesterday's news that the Yankees had cut top prospect Jesus Montero from the major league camp came as no surprise. The plan going into spring training was that at 20 years old there is no reason to rush the young prodigy and he would stay in the minors, starting at Triple-A Scranton all season long.
So even though he hit .375/.444/.625/1.069 this spring, he was cut because, well, that's the plan. His bat might be ready for the majors, but his defense still needs time to mature and because of his extremely young age it seems likely that the Yankees can keep him in the minors and not feel pressured to call him up.
But as we've seen with the "Joba Rules"—plans can change.
So here are three scenarios where we might see Baby Jesus reach the Bronx sooner than expected:
Nick Johnson lands on the DL— It's June, Jesus Montero is hitting .325 at Scranton and Nick Johnson pulls something rounding the bases and is expected to miss at least a month. The Yankees want to resist the urge to fill their DH spot with Montero so they go with Marcus Thames instead, but Thames is hitting about .220. With the Red Sox and the Rays playing well, the Yankees risk hurting Montero's development and once they hear Johnson is going to miss more time than expected, they call-up Montero.
Jorge Posada lands on the DL— The Yankees feel comfortable enough with Francisco Cervelli this year that they handed him the job as Jorge's backup before spring training even started, but would they feel comfortable with him as the everyday catcher if Posada has an extended stay on the DL? Not if the Red Sox and Rays are breathing down their necks. This scenario probably requires some other regulars missing time in the lineup because if Posada is the only one out the Yankees could probably bear the weight of Cervelli's light bat in there everyday.
Montero just dominates Scranton— As a 17-year-old, Montero hit well in rookie-ball. At 18 he hit very well in low-A Charleston. Last season he dominated high-A Tampa and was promoted to Double-A Trenton and dominated there as well. It's been a jump from Single-A to Triple-A in just one year, but it's not unreasonable that Montero could hit well there. If he's absolutely raking then the blogosphere and newspapers are going to take notice and begin the drumbeat to call him up. If the Yankees are in need of a bat, it's going to be hard for them to resist that call.
With all of that said, I don't expect to see Montero in the Bronx before September. All of these scenarios involve Montero hitting well in the minors and the Yankees feeling the pressure of a stacked AL East. They also have other options in each of the first two scenarios.
Actually, a case could probably be made that Austin Romine would be a better candidate to get called up in scenario No. 2. His defense is further along than Montero and if he is hitting in Double-A maybe he would be ready for the jump to the majors.
If Montero is hitting about .350 with power, I think it will get interesting to see if the Yanks resist calling him up. What do you think?
Read more New York Yankees news on BleacherReport.com