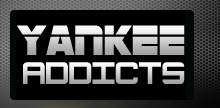 April 13, 2010 · Bronx Baseball Daily · Jump to comments
Article Source: Bleacher Report - New York Yankees
Here are some pictures tweeted by MLB of the World Series ring that the New York Yankees received today as part of their Opening Day ceremonies in the Bronx.
This is George Steinbrenner's ring. In the past his ring has been slightly different, usually bigger, than the rings they hand out to all of the players. I'm not sure if that is the case this year. This is also the first time that the ring is made out of white—not yellow—gold.
What do you think? I like it. I think it's one of the better rings they've given out in recent history.
Related Stories
Read more New York Yankees news on BleacherReport.com