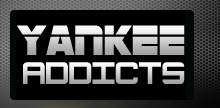 June 5, 2009 · Rebecca Glass · Jump to comments
Article Source: Bleacher Report - New York Yankees
How do you personify a winning team?
How do you take a run, say a 17-5 run, and choose the one or two things that stand out in this run more than anything else?
Good pitching and clutch hitting win games, but individual games mean little until you look at the overall context. Is it one win among 20 losses, or one loss among 20 wins? What stands out, from game to game to game?
With the Yankees, right now, there are a few things, that, while they may not contribute individually to wins (though sometimes they do), jump out about the Yankees recent winning ways:
First, the Yankees have not lost two games in a row since getting swept by the Rays in a two-game set at the beginning of May. Every team loses games. We know that. What matters isn't so much the loss; it's how a team comes out and plays after a loss. The Yankees this year, unlike last year, don't seem to be flustered when they lose one game. Last year, it was hardly ever one loss sandwiched between wins, but instead always two or three losses in a row before the team could pick itself up.
Second, the Yankees' starters have lost only twice in the past 21 games. This is more than just a declaration of good starting pitching; it means that even when the team loses, it is rarely, if ever, getting blown out. By getting the game to go to the bullpen in such a situation where the starter cannot lose, it suggests that the team does not just play close games, but seems to enjoy playing games close and late. The Yankees as a team are batting.349/.440/.583 in situations defined as late and close. This team doesn't just like late-inning drama; it thrives on it. Sometimes, you don't win, but in 2009, more often than not, the Yankees are winning.
Third, the bullpen is not what we thought it was. YESBlog illustrates this with this tidbit:


Don't look now, but the beleaguered bullpen has allowed only one run over their last 11 innings (Ian Kinsler's solo homer off Alfredo Aceves on Thursday). During the Yankees' current 17-5 run, relievers are averaging more than three innings a game and are 6-3 with a 3.15 ERA.
(continued) This is not just a good one game performance; it's a good performance over a spate of games, and since the games do bleed into each other, not having to use every reliever one game means you have more available for your next game.
The team is winning at home and on the road. They might not be the Phillies, who are 20-6 on the road, but merely posting a .500+ record on the road in the American League is hard enough in its own right. While beating Cleveland in Cleveland might not state much, beating Texas in Texas does.
Everyone has stepped up and done their part, including a catcher named Francisco Cervelli, who was hitting under .200 at AA Trenton…and has proceeded to hit .295 at the big league level while at the same time working flawlessly with guys like CC Sabathia. Sure, Teixeira's been on fire and there's a Jeterian Renaissance in the Bronx, but it's the guys like Melky Cabrera and Brett Gardner and Cervelli, guys that people at the beginning of the season (self included) were calling the "black hole of doom at the bottom of the line up", that have exceeded everyone's expectations. When you have your supposedly-non-descript-fourth-outfielders-and-back up-to-the-back up-catcher performing like these guys have, you have something special on your hands.
There will be some who say the return of Alex Rodriguez is the single factor that has led to this spate of winning; I think the return of Rodriguez to the line up, while also giving Mark Teixeira much-needed protection, was simply the X-factor that pushed the Yankees over the edge, from being a potentially-good-team-if-the-pitching-works, to best-record-in-the-American League.
The best thing about all of this, is that everything is still not going exactly right. That sounds strange, so hear me out: Alex Rodriguez is still not right; he's in a trying-to-do-too-much kind of funk. Xavier Nady, Damaso Marte, and Jose Molina are all still on the DL (remember them?)
The middle relief still makes you hold your breath with anyone not named Aceves, and the Yankees rushed Wang back before he was ready and either had to slot him into the rotation when he could have used more rehab starts, or watch his arm atrophy in the bullpen.
Despite this, however, the Yankees have gone 17-5 in their last 22.
They've won seven of their last 10 games and had a chance of winning all 10 games.
When the Yankees go to play in Boston next week, it's a team composed of mostly the same people as the last time they were there (with the addition of Rodriguez, a Teixeira that's not an automatic out and they'll get CC on the mound in the final game), but there's an entirely different feeling.
This team is winning, constantly and well, winning early and winning late, winning with the starter going eight and with the starter gritting through five.
Can they keep it up over the whole season?
If they can, it would just enforce something I think we already know: these are the ones we have been waiting for.