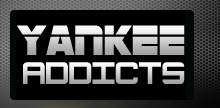 News published by
October 12, 2009
The cool thing about the postseason is that teams that advance to the next round can adjust their roster, for whatever reason—maybe someone gets hurt, maybe someone is better against ...
October 7, 2009
The common refrain going around the Yankee fan base right now is that while nothing is guaranteed, and that the Yankees are not guaranteed to win their series against the ...
October 5, 2009
Some of these will not be among your traditional choices. Feel free to add your own in the comments.10) Nick Swisher's surprise pitching appearanceThis won't be a traditional ...
July 17, 2009
Many of you saw the post I wrote last night, in which, with the help of a couple of Mets fans, I arrived at a very, very simple conclusion for ...
July 11, 2009
The New York Yankees are 13-4 in their last seventeen games. On the surface, that's pretty impressive--but if you ask anyone, the Yankees should be better.Some fans will tell you ...
July 11, 2009
Sometimes, as a pitcher, you don't actually pitch all that badly, but your defense plays, well, shoddy baseball.Last night was a rare instance in which both Alex Rodriguez and Derek ...
July 9, 2009
Take a moment with me, and imagine the following scenario:It is, say, April 14, 2009. The season is a week old and your baseball team, your beloved New York ...
July 8, 2009
All of the hullaballoo about Roy Halladay being on the trade market has made many Yankee fans think back to the 2007-2008 off-season, and the Johan Santana trade that wasn't.For ...
July 6, 2009
Yesterday, on our three hour ride back from the postponed Scranton AAA doubleheader, my friend Brent and I got into an argument about Alfredo Aceves.I maintained that the best comparison ...
June 29, 2009
The past two weeks have been not so much "A Tale of Two Teams" as it has "A Tale of Two Offenses".Both weeks, the Yankees pitched decently—certainly well enough that ...