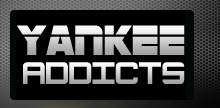 February 18, 2010 · Bronx Baseball Daily · Jump to comments
Article Source: Bleacher Report - New York Yankees
The Yankees have 15 retired numbers and about 65 people in camp, it's really not out of the realm of possibility that they could have somebody wearing no. 100 on their back some spring training in the future. Especially because Yankee fans seemed to have unofficially retired certain numbers (21 and 51 among others).
If you can't tell by now, this is a post about jersey numbers. Pitchers and catchers started yesterday and with it came the announcement of the new players and non-roster invitee's numbers.
Via Chad Jennings of the Journal News , here they are:
New additions
Greg Golson, 61
Curtis Granderson, 14
Jamie Hoffmann, 73
Nick Johnson, 27
Boone Logan, 48
Javier Vazquez, 31
Randy Winn, 22
Minor league free agents
Reid Gorecki, 66
Dustin Moseley, 40
Royce Ring, 47
Mike Rivera, 12
Zach Segovia, 70
Marcus Thames, 38
Jon Weber, 79
David Winfree, 78
New to the 40-man
Reegie Corona, 76
Hector Noesi, 74
Ivan Nova, 75
Eduardo Nunez, 94
Kevin Russo, 77
Romulo Sanchez, 67
Organizational minor leaguer
Wilkins Arias, 90
Jeremy Bleich, 86
Colin Curtis, 98
Grant Duff, 82
Kyle Higashioka, 92
Jason Hirsh, 60
Kei Igawa, 17
Brandon Laird, 97
Zach McAllister, 80
D.J. Mitchell, 72
Jesus Montero, 83
P.J. Pilittere, 85
Ryan Pope, 69
Austin Romine, 84
Amaury Sanit, 93
Jorge Vazquez, 95
Kevin Whelan, 81
Thoughts : How did Mike Rivera snag no. 12? And Kei Igawa is lucky to still have no. 17. Also, Jamie Hoffmann has no. 73, you'd think if he had a real shot at making the team he might have been given a lower number.
Most Commented Posts
Read more New York Yankees news on BleacherReport.com