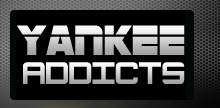 February 17, 2010 · Bronx Baseball Daily · Jump to comments
Article Source: Bleacher Report - New York Yankees
Jesus Montero has been a hot issue with the Yankees lately. Should they trade him or keep him? Is he good enough to stay behind the plate or should they move him to another position? If they move him to another position where should it be? Is he ready for the major leagues now? Should he be a midseason call-up or should they take it slow with him?
These questions and more have been raised. Everyone's got an opinion, but those opinions really don't matter a whole lot. What really matters is what Yankees general manager Brian Cashman thinks and NoMaas.org got the low-down on that.
"I don't see him in the Bronx this season," Cashman said about the possibility that he could be called up midseason. "He needs to take his next step in the process."
This should be expected, the one spot where Montero really needs work is behind the plate and it won't help the Yankees to have him learn in the Bronx. The wildcard here is the fact that his bat seems ready now, or if not now, very soon. If the Yankees have some injuries, they are going to be awfully tempted to just reach down to the minors and bring him up. Hopefully for his sake they can resist this urge and stay on track with this plan of not using him until 2011.
So the plan to keep him in the minors for 2010 seems pretty well set. Their plan to keep him behind the plate seems a lot more unsettled.
"His value is highest as a catcher," Cashman said. "His bat will find a way into the middle of the lineup, that's without a doubt. Whether he stays behind the plate, is a first baseman, a rightfielder, a DH—that remains to be seen.'
"But he's got one of the best throwing arms in the minors, he's got some of the best blocking…he's just so big, mechanically he takes a lot longer in his release. That's an area he needs to shorten up."
So it does seem like they are open to the option of moving him out from behind the plate, but that they are hoping to keep him there. It does seem like there are reasons to be optimistic though and that's probably why they plan on keeping him in the minors for a full season in 2010.
His bat is nearly ready, nobody is fighting that idea, but the Yankees want to keep him behind the plate and they seem prepared to give him time to do that. My only question is exactly how much time they'll give him back there. If he's not improving by the All-Star break, do they move him to right field? Or do they wait until next season?
By that time keeping his bat in the minors would probably be a waste though. Is the answer to make him the 2011 DH while working with him on the side as an outfielder? Or to just stick with him as a catcher until he proves he can't handle it.
It's nice to hear what their immediate plans are, but it does leave long-term questions if he can't handle the job.
What's your take on what the answers might be?
Related Stories
Read more New York Yankees news on BleacherReport.com