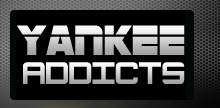 June 15, 2009 · Rebecca Glass · Jump to comments
Article Source: Bleacher Report - New York Yankees
Once again, let's take the semi-regular look at how the Yankees have performed this season on an off day.
Starting Pitching

The starting pitching, which had gone through most of the month of May on an absolute roll, has struggled something of late. Part of the problem, it seems, has been placing Wang back into the rotation even though he is clearly not ready for it. I'm not sure if there's something contagious there, but it seems to go back to that old saying, "If it ain't broke don't fix it," and CC-Phil-Joba-AJ-Andy was, if not perfect, certainly not the broken that CC-Joba-Andy-AJ-Wang has been.
CC Sabathia
He continues to be the one starter worth the money we signed him for; it's true he did not win his last two starts, but he should have won the start in Boston, going into the eighth inning having only given up one run. He, like some other Yankees, seems to be performing better on the road, but given how few teams have winning records on the road, the Yankees will take it.
Joba Chamberlain
The lack of command in his last two starts is more concerning than anything else. For some reason, in his last start he could get to strike two but found it nearly impossible to get to strike three. Whether this is psychological or has a deeper root, we don't know yet, and that's disconcerting. He should get a start against the Nats if I'm remembering correctly; if that doesn't help him, then the Yankees will have a serious issue with which to contend.
Andy Pettitte
Of late, he has not looked all that good. True, for the most part he's giving the Yankees a chance to win every game, but at times it seems like a miracle. I'm not sure anyone really thinks he's 100 percent healthy, but it's a credit to him to try to tough it out—he always has. He has, throughout his career, been a second-half pitcher, so we will see what happens here.
AJ Burnett
It's night and day between Fenway and the Mets. It was nice to see him rebound as he did, especially when he got out of the bases-loaded, no-out jam without giving up a run. This could be a real turning point for him in this season, and if he can give the Yankees what they signed him for, even if only starting now, it will be well worth it, indeed.
Chien Ming Wang
No one wants to give up on him, but the Yankees can't wait around much longer. Simply put, he hasn't been effective enough to remain in the rotation when other options are readily available. The Yankees' No. 1 option to replace Wang won't cost a thing.
Bullpen
Usually, I'd include the bullpen after the offense, but I think that right now the bullpen and starting pitching are so inextricably linked that it would be foolish not to include one right after the other.
The bullpen, of late, has taken a beating because the starting pitching hasn't allowed them a rest. Burnett's performance yesterday, along with the off day today, could not have come at a better time.
Also, rumor has it that Brian Bruney will be activated on Tuesday; again, that could not have come at a better time.
Phil Hughes
He's excelled in the bullpen, which is a slight problem because if we've seen what the Joba-to-the-pen debate has done, who knows what the Phil-to-the-pen debate could do?
Anyway, he's been critical for the 'pen of late, but unlike David Cone, I'm of the belief that he will continue to do more good for the Yankees—not to mention for his own development—if he remains in the rotation
Phil Coke
He still has his moments. Sometimes, he's so automatic to make you wonder why he's not the eighth inning guy, but then, at a rate a little less than Farnsworth but still too much for total comfort, he'll lose it. He's one of the 'pen's better relievers, but he's still got a ways to go. Still, if you ever get a chance, listen to his postgame interviews. He is a natural.
Alfredo Aceves
He continues to be Ace, for the most part. He didn't get the job done in the Boston game that Sabathia started, but in his defense, without his services the Yankees might not be a .500 team right now. Okay, so it's probably not that drastic, but in terms of team MVPs, don't just look at the Yankees' record since A-Rod came back; look at the team record since Aceves was brought up from AAA.
David Robertson
He's the same as he's been for about a season and a half: unhittable when he throws strikes. Unwatchable when he does not.
Brett Tomko
Sometimes, he's thrown a couple critical scoreless innings for the team. Sometimes, like on Friday, he takes a bad situation and makes it worse. Still, right now most Yankee fans would trust him a heck of a lot more than…
Jose Veras
He has seemingly been relegated to mop up duty. My friend Brent brings up a very interesting point: part of Veras' lack of control may stem from the fact that when he pitches and when he finishes his delivery, his head is not looking at the target. Isn't that the type of thing you learn about before you make the Majors?
Mariano Rivera
Like we learned last year, there's something about tie games that makes Mo not Mo. He has an ERA under two in save situations and near in non-save situations—it'd be funny if it didn't mean so much to the team. Even Mo is baffled.
The Offense

Just when you think the offense has lost it, they come out popping for fifteen runs, and not on fifteen solo home runs, either. It seems like some guys are hitting and others are slumping always, but what's making this work is that the slumping and hitting guys keep switching—teammates picking each other up when need be.
Derek Jeter
He has been slumping a bit at the plate, but was 4-4 yesterday, so he may be coming out of it. More crucial, however, is Jeter's better play in the field. One source suggested that it was him playing deeper, so though his range may not have improved much, he is giving himself more time to get to balls. It's working.
Johnny Damon
With the exception of yesterday when, well, no one was struggling, he's been slumping and there may be a physical reason for it, as he was worried about feeling some after effects of a concussion. The Yankees seem to be playing it down, but I'm curious to see if anything develops.
Mark Teixeira
After his April, did anyone think he'd be leading the AL in home runs? You did? Really? Prove it. At this rate, he seems almost golden for at least one HR every series. Imagine if it becomes one HR every game.
Alex Rodriguez
He should have been the last out on Friday, and instead is an inadvertent hero (okay, Luis Castillo was the real hero there). Yesterday he narrowly, and I mean narrowly, avoided hitting into a triple play. His one HR came against the Mets in the game the Yankees lost.
Everyone's still waiting for him to take off, because if he doesn't, Teixeira may stop getting so many pitches to hit. To his credit though, Rodriguez hasn't forgotten how to work the walk.
Robinson Canó
The problem with Canó hitting fifth is that while he can hit the heck out of the ball, his OBP is driven almost entirely by batting average, and not walks. It's true: He's been taking more pitches, but there are still too many pitches he hits as weak grounders, and not enough line drives, to really provide much protection for A-Rod.
Jorge Posada
He has turned into something of a controversial player with his reported relationships with certain pitchers, but he's still hitting the ball pretty well since coming off of the disabled list. Truth be told, Posada's not had a career this long because of his defense.
Hideki Matsui
It appears that all the Yankees have to do is tell Matsui that it's his birthday, and—boom!—Godzilla is unstoppable.
Nick Swisher
He appears to be doing the every other month thing: a torrid April, tepid May, and heating up in June to the point that we're all just waiting for his next relief pitching appearance. Yesterday, while making a catch that helped (okay, maybe just a little) to distract from his disastrous defensive and base running miscues in Boston, Swisher knocked the Mets sign off of the scoreboard out in right, and in typical Swisher fashion, attempted to fix it. A little.
Melky Cabrera
He has cooled down considerably of late, but he is still working counts much better than at any time last year, which suggests that the present slump probably won't last too long. If you haven't yet, check out Melky's splits, including his average in close and late situations this season.
Francisco Cervelli
Whatever the Yankees thought they were going to get out of their third string catcher, I don't think it was this. For example, without two of his three hits yesterday, one that was a bloop off the end of the bat, and the other relied on his hustle to get down to first base before Santana, the Yankees might not have won that game. He continues to do all the little things right.
The pitchers rave about him; he's always beaming in the post-game interviews. He might not be Albert Pujols with the bat, but he's earning his pinstripes in the best way.
Brett Gardner
The tendency with Gardner is that he tends to have his best games when inserted as a sub or otherwise not starting regularly. With Melky Cabrera playing as well as he is, the Yankees can afford to do that. The only issue here is Gardner not stealing when it's clear that if the Yankees put him in as a pinch runner, they do so for one reason: so he can steal a base.
Ramiro Peña
His bat could still benefit from everyday play in the Minors, but keeping him up here has been invaluable for pinch running and late inning infield defense.
Angel Berroa
He's likely to lose his spot upon the return of Xavier Nady, but since no date has been set for that, he's got himself some more time to spend most of the game sitting on the bench.
Xavier Nady, Jose Molina, and Dámaso Marte have not appeared in a Major League game since the last off day.