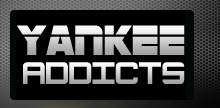 June 25, 2009 · Danny Pazos · Jump to comments
Article Source: Bleacher Report - New York Yankees
Well, here's the moment you have all been waiting for.
Ladies and gentleman, here is the second installment in my personal favorite journalistic series, the Yankees Hall of Shame.
In part one; I explored some players who are as far away from getting their busts in Monument Park as Sammy Sosa is from getting into Cooperstown.
If you don't quite know what the criteria is for getting into the Yankees Hall of Shame, I am happy to explain my methods.
It includes anything from putting up atrocious numbers with the Yankees to being overpaid, to being a general heel on your own team in the Bronx.
Special thanks to anyone who commented on the last article and insisted any of these guys were included in the hall.