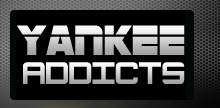 June 16, 2009 · Tom Schecter · Jump to comments
Article Source: Bleacher Report - New York Yankees
The week ended in one of those laugher, sigh-of-relief games that every Yankee fan is used to…and every opponent dreads.
The play-by-play men and color men talk in platitudes like, "You can't keep a lineup this good down for too long." Anyone who was watching the last nine games – nine (well, ten, but for the rain) I had tabbed in my head as the most important stretch of the first half – can't help but be very nervous, and can't help but know that there are absolutely guys who can keep a lineup like ours down for very long. We can do it ourselves.
We've seen most everyone in the American League by now, at least once. I think we've seen every contender. We spanked Detroit in their house. We spanked Toronto in their house and started them on a slide that has dropped them to third in the East. We beat the Angels two out of three, and Texas four out of six.
But these three series (Tampa, Boston, Mets) were supposed to tell us where we are, and if they did, we're in a lot of trouble. We needed two late inning comebacks, one against Tampa and one against the Mets, both aided by the other team's sloppy defense, just to finish 4-5. And we still haven't beaten Boston yet this year. Not once.
(Okay…remember a few weeks ago when it was just five in a row and I wasn't ready to talk about it? Now I'm ready to talk about it.)
I wrote the first draft of this piece on Thursday night, when I was still mad. I wrote it entirely as an airing of grievances aimed at all the goats from the sweep at Fenway. I called it "The Stroke Series," because between my rising blood pressure and the fun little commercial starring two surgeons removing a smoking-related blockage from some poor bastard's renal artery, it seemed appropriate. I had gone outside after the game ended and had two or three rage-fueled cigarettes anyway.
"I'll take the stroke, right now," I wrote. "Anything but this."
We went into Fenway Park and hit about .100 wih runners in scoring position for the series. Which would have been bad enough, but just to make things a little bit more frustrating, two of our starters managed to throw a combined 153 pitches to get only sixteen total outs in the first two games.
A.J. Burnett walked into FenwayPark looking for revenge from Round 1 and got so amped up after giving up a home run to David Ortiz that he sped his delivery up to almost twice its usual time to home. Needless to say, he had no idea where the ball was going, and gave up four more runs very quickly before getting the hook in the third inning of Game One.
Chien-Ming Wang is so deep in his own head right now that I think the Yankees may have to help him fake an injury to get him back to Triple-A for more "rehab," if we ever want to get him back as a starter this year. He was, well, just kinda bad, and got pulled for Hughes in the third inning of Game Two.
This, of course, forced Girardi's hand – by the time Sabathia walked Dustin Pedroia in the eighth inning of the third game, even 130 pitches deep into the game, he was still probably Joe's best option. One more single to J.D. Drew opened the floodgates, and a huge blown call on a pitch from Aceves to Kevin Youkilis that was clearly strike three made that comeback all but inevitable.
Yes, I'm really calling an umpire out. Aceves threw the same pitch again, four pitches (and two hits, and two runs) later, to that exact same location, and this time got a called strike. And so to James Hoye I say this: from the bottom of my heart, thank you for at least getting it right the second time, even after the first one cost us the game. You're a real pro.
(I watch way too much baseball. I've seen almost fifteen hundred games on television. I saw my first game at the new Stadium on Monday, and got to see Andy Pettitte live for the first time in my life. And I was going to write something about that, too, about how the new place is a little too Disneyland for my taste, in comparison to the dark, brooding, fear-inspiring Gothic Cathedral that was the old Stadium. But I can't really write that now, because I watched a game on TV Thursday night and actually called a better, more consistent strike zone from five miles away than the home plate umpire did. I feel like the 1997 Braves.)
But the reason I'm still furious, even after five days, is not the umpiring or the managing but simply because we walked into Fenway Park and froze under the lights. Well, not froze, exactly. Every time we had runners in scoring position, every single hitter we sent up to the plate decided to swing for the fences. A.J. decided to throw as hard as he could, and he didn't know where the ball was going. We tried to do too much, and it cost us. We looked ridiculous. Brad Penny shut us out for six innings.
So, in the aftermath…Where are we? Where is this Yankee team going?
There are two faces – two brains, even – to this team. These two different mindsets have been at odds in a battle for the Yankees' soul since the beginning of 2004. One is the Derek Jeter Brain. The other is the Alex Rodriguez Brain.
The Derek Jeter Brain is cool as ice, content to hit the ball hard and low to the opposite field and let the next guy keep the line moving. Or, if we're talking about a pitcher, they challenge the opposition to beat them, and trust their defense to make plays when the ball gets hit. C.C. Sabathia is a Jeter-type. Andy Pettitte and Mariano Rivera are like that, too – which is why the late-90s dynasty happened.
The Alex Rodriguez Brain feels the need to be the hero in every situation. This comes from a place of good intentions, not a selfish place, but in every big spot these guys grip their bats a little tighter, breathe a little heavier, and try to hit every pitch they see into outer space. Or, for the pitchers, pitch away from contact and try to strike out every batter they face in a big spot. A lot of our guys seem to allow this feeling to creep into their subconscious in big spots. And the young guys, especially when they're going good, tend to start playing this kind of game too.
Saturday against the Mets, every single swing the Yankees put on a Nieve fastball was a "pull the ball into the short porch in right" type of swing. Even Melky! – dear, sweet Melky who spent all of May making a name for himself by hitting clutch singles to the opposite field – got into that act against Nieve. We hit six or seven fly balls to the warning track. We lost the game 6-2.
Five years ago, that approach cost us a pennant, in two games full of extra innings against Boston's bullpen where everyone tried to pull any fastball they saw for the game-winning home run. In high pressure situations, the team has gotten into the habit of taking that approach. And every game against Boston is a high-pressure situation.
But for a blown strike call in the third game, and for Posada's drive off Papelbon being five feet higher and longer and hitting the wall, we may have taken two out of three this week. We are as good or better than Boston is, when we don't all turn into Alex Rodriguez at the same time.
Ironically, A-Rod was the one guy who got a big hit in Fenway, in the seventh inning of Game Three. Two outs, two on, and he fouled off a few tough two-strike pitches from Delcarmen before drilling a full-count fastball into the Monster. Didn't try to do too much, just leaned back and hit a line drive.
One more thing: the day Alex Rodriguez locks into his Derek Jeter Brain, if it ever happens, is the day the Yankees become unstoppable. He's that good, and that dangerous when he's going good, and if he ever stays out of his own head for an entire postseason it makes this team an absolute lock for a championship.
But I have a feeling that until he does, we're still in trouble.