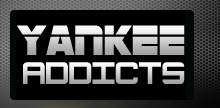 April 22, 2010 · Bronx Baseball Daily · Jump to comments
Article Source: Bleacher Report - New York Yankees
Most astute baseball fans can list several first-round draft picks that failed to live up to expectations. Their careers could have been derailed by drugs, alcohol or sex addiction. In some cases, their style of play may not have worked at the minor league level.
Other times, they are just mismanaged. One case will always stick out to Yankee fans, however: that of infielder Eric Duncan.
Drafted in the first-round of the 2003 amateur draft, Eric Duncan and the Yankees appeared to be a match made in heaven.
The Yankees needed to bolster their farm system and add a player whom fans could get excited about. They needed the next Derek Jeter: a true blue fan of the Bronx Bombers with enough baseball talent to spent his career in pinstripes. Duncan, a New Jersey native and high school standout fit the bill.
A player's first 100 at-bats in the minors are never a good indication of how he'll perform later in his career, but Duncan's early performance suggested that the Yankees had a very special player on their hands.
In 61 games split between Staten Island and the GCL Yanks, Duncan posted a .301/.364/.473 line. Although he made an astounding 17 errors at third base, the sky appeared to be the limit for the 18-year-old.
Unfortunately, the sky was a lot closer than everyone thought.
Duncan never really enjoyed a solid season after his rookie year. Once the Yankees acquired Alex Rodriguez in 2004, things took a turn for the worst.
Duncan was shifted to first base. Forced to learn a new position while adjusting to the competition at the Triple-A level, he continued to struggle at the plate.
The higher he rose in the farm system, the lower his batting average got. He was ultimately relegated to bench duty over the course of his final two seasons with Scranton, posting a .203 batting average during the 2009 season.
We'll never know for sure what went wrong. I personally think that he was rushed through the system and will eventually emerge as a semi-productive major league player in the future, but that could be a few years away.
Some could argue that he never had the talent to make it in the big leagues, but I suppose we'll have to wait until he official hangs up his cleats before that is decided.
Duncan is only 25-years-old, but he already has 744 minor league games under his belt.
Now a member of the Atlanta Braves Double-A affiliate, the infielder is enjoying success at the plate.
Hitting .441 and posting a 1.044 OPS in 12 games, Duncan could improve his stock this year.
One thing is for sure. I don't know how sad someone's case can be when they are playing baseball for a living. Still, here's to Duncan finding his groove and making it to the majors.
Most Commented Posts
Read more New York Yankees news on BleacherReport.com