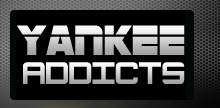 April 30, 2009 · Jabber Head · Jump to comments
Article Source: Bleacher Report - New York Yankees
Alex Rodriguez could return to the New York Yankees lineup a little sooner than initially expected this season… which is a good thing, since I totally picked him to be the American League MVP this spring. I may or may not have been under the influence, but I stand by my pick.
According to Dr. Marc Philippon, the doc who operated on his hip back in March, Rodriguez could be back in pinstripes as soon as ten days from now. Dr. Philippon even watched the three-time American League MVP work out on Wednesday at the Yankees minor league complex and said,
"He's looking good. Looking awesome."
Rawr.
A-Rod hit in a simulated game against minor leaguers for the second straight day, and also did things like sliding on a mat, running the bases, taking over 100 swings in regular batting practice, and making that ridiculous pouty face. He's supposed to start playing in extended spring training games later this week.
In other Yankees news, Chien-Ming Wang still sucks ass. Just kidding. The real news is that Yanks manager Joe Girardi enjoyed his 100th victory as a New York skipper Wednesday evening with an 8-6 win over the Detroit Tigers. Congrats, Joe.
*Sooze is a Sports Jabber contributor. You can view more of her work at Babes Love Baseball

Join in the discussion on this and other topics in the NEW Sports Jabber Forums!