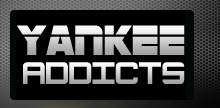 News published by
October 17, 2010
It's not going to be a sweep for the Yankees. The Rangers got their first postseason victory at home in their nearly 50 seasons with a 7-2 blowout win over ...
May 19, 2009
I've heard some pretty terrible excuses in my day: "I forgot;" "The devil made me do it;" and "Baby, I was drunk." But to blame an umpire review on an injury? ...
May 5, 2009
A couple of weeks ago, we were all over the Mets for their treatment of Dwight Gooden's autograph on a wall in Citi Field. Well, the other team in New York will ...
April 30, 2009
Alex Rodriguez could return to the New York Yankees lineup a little sooner than initially expected this season… which is a good thing, since I totally picked him to be ...