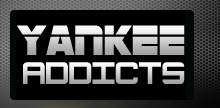 February 25, 2010 · Hot Stove New York · Jump to comments
Article Source: Bleacher Report - New York Yankees
We all know about the great athletes in New York sports history–Babe Ruth , Tom Seaver, Lawrence Taylor , Joe Namath , Mark Messier , Walt Frazier –and even the busts–Ed Whitson , Mo Vaughn , Roberto Alomar , Stephon Marbury , and Scott Gomez .
But what about the slightly-to-highly-above-average athlete? The kind-of-great but not all-timer? They may not have been Hall-of-Famers, but they were All-Stars, fan favorites, cogs on a championship team or maybe even just pretty darn good. They're the little brother that didn't hog all the attention. But they're certainly worth talking about and remembering. So when do they get their due? Well, now they will. Here is a series of the not-quite-legendary in New York sports history.
When Mickey Rivers walked up to home plate, he hobbled to the batter's box looking like an old man shuffling out to the mailbox to retrieve his monthly AARP Magazine . The flakey center fielder came to the Bronx in a trade with the Angels (along with pitcher Ed Figueroa ) in exchange for outfielder Bobby Bonds before the 1976 season. He spent three full seasons in New York as the Yankees' leadoff hitter, and he was the sparkplug that led the team to three consecutive World Series appearances in those years.
Mick the Quick made his mark with the Bombers in his first season with the team when he finished third in the MVP voting, behind winner Thurman Munson and George Brett . He played in the All-Star game that season and was named to the Sporting News AL All-Star team.
For the year, he batted .312 (but with a low .327 OBP–he only walked 13 times all season), scored 95 runs, swatted 184 hits, had 31 doubles and eight triples, hit eight homers and drove in an impressive 67 runs from the leadoff spot, and he swiped 43 bases. He may have walked like a senior citizen, but he could run like a jackrabbit.
He followed up his debut season in the Bronx with one just as good in 1977 (and finished 11th in the MVP voting). While his numbers were impressive-.326 average, .350 OBP, 79 runs scored, 184 hits (again), 18 doubles, five triples, 12 home runs, 69 RBI's, 22 stolen bases–the outcome for the Yankees was better that season. After being swept in the World Series by the Big Red Machine in '76, the Yankees beat the Dodgers in the Fall Classic to win their first championship in 15 years.
In 1978, he had another quality season (.265 avg., 78 runs scored, 148 hits, 25 doubles, eight triples, 11 homers, 48 RBI's, 25 stolen bases), and the Yankees beat the Dodgers again for another championship. But it was in the three League Championship Series where he excelled.
The Yankees faced the Kansas City Royals three years in a row, and Rivers starred in each one. In 14 total games, he batted .386, with an un-Rivers-like OBP of .417, belted 22 hits and scored 10 runs. His average in the 1978 series was a whopping .455. He didn't fare as well in World Series play, though, only hitting .238 in 15 games.
His Yankee career ended when he was traded to Texas (with a few other unmemorable players) for Oscar Gamble (and a few throw-ins, including Gamble himself) on July 30, 1979. In 1980, he set a Texas franchise record with 210 hits.
Rivers was almost known more for his zany personality and infamous quotes than for what he accomplished on the field. Here is a sampling of some of the memorable things he's said:
" My goals are to hit .300, score 100 runs and stay injury-prone."
" He's so ugly, when you walk by him, your pants wrinkle. He made fly balls curve foul."
" I might have to commute. You know, left field, DH, wherever."
" I don't get upset over things I can't control, because if I can't control them there's no use getting upset. And I don't get upset over the things I can control, because if I can control them there's no use in getting upset."
" Me and George and Billy are two of a kind."
Rivers finished his career with a .295 lifetime average and 267 stolen bases. For what it's worth, Bill James ranks him the 59th best center fielder of all-time. He called everyone around him Gozzlehead or Warplehead (and was also known to respond to those strange nicknames himself).
No one knows why he did that, but being a fun, wacky mystery was what Mickey Rivers was all about.
(Click here , here , here , here and here to read the other bios in the series.)
Read more New York Yankees news on BleacherReport.com