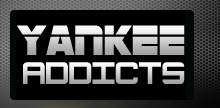 News published by
February 25, 2010
  We all know about the great athletes in New York sports history–Babe Ruth , Tom Seaver, Lawrence Taylor , Joe Namath , Mark Messier , Walt Frazier –and even the ...
December 24, 2009
Christmas is all about comebacks and overcoming adversity against all odds. OK, it's really nothing about comebacks and overcoming adversity against all odds, but is about love, peace on earth, ...
November 11, 2009
The 2009 Worlds Series had a few firsts' happen. A full-time designated hitter won the MVP award for the first time. A 1960 record for most RBI's r, with the ...
November 6, 2009
Finally! The waiting is over! After nine long years without a title, the Yankees are champs once again. Nobody suffers like the Yankee faithful. Think of the toll all those ...
November 5, 2009
In Major League Baseball, the MVP award goes out at the end of the regular season. It goes to the athlete who has stood out as being the most valuable, ...
October 30, 2009
All anybody's talking about in the New York area is the Islanders' first regulation win over the Rangers (though Jimmy Rollins predicted it on Monday). You can't walk down ...
October 23, 2009
It was a brutal week for the New York football teams, as the Giants got killed and the Jets fell to lowly Buffalo and lost Kris Jenkins for ...
October 16, 2009
Now that the Great Balloon Hoax of Aught-Nine is over, we can concentrate on sports again (C.C. Sabathia's uniform is so big and baggy, it could probably be filled with helium ...
October 16, 2009
With the playoffs in full swing, the possibilities begin to become realities. Manager Joe Torre's Dodgers, focus is now on the NLCS as the team swept the Cardinals in three ...
October 6, 2009
Mike Vaccaro has been the lead sports columnist for the New York Post since 2002. A New York native, Vaccaro has also covered the local sports scene for the Newark ...