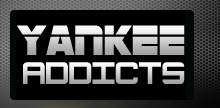 March 7, 2010 · Harold Friend · Jump to comments
Article Source: Bleacher Report - New York Yankees
Dave Paderson is a die-hard New York Mets' fan. In 1966, Dave was attending New York University's graduate school.
One December night that year, on his way back to his home in Flushing, Dave received a wonderful present from New York's other team.
"We are committed to making a fresh start with young players. Smith gives us an experienced third baseman. He'll still have to beat out the kids to get the job, but at least we know he can do it."
Lee MacPhail, New York Yankees' general manager.
The Roger Maris Trade
On Dec. 8, 1966, the sixth place New York Yankees traded Roger Maris to the St. Louis Cardinals.
I was in the subway, on my way home from New York University. It was about 10 PM, and I could see the headline on the back page of one of New York's tabloids.
It blared out that the Yankees traded Roger Maris to St. Louis for Charlie Smith.
I did a double-take. There had to be more, but much to my delight, I discovered that there wasn't.
The new Yankees' regime, led by Mike Burke and Lee MacPhail, under the leadership of CBS, received a 29-year-old journeyman infielder for the player who, to this very day, holds the single season home run record.
Charlie Smith
I was familiar with Charlie Smith because he had spent two seasons with the Mets. He was an average player who hit right handed with occasional power.
Smith's best position was third base, where he was merely an adequate fielder.
Charlie came up through the Los Angeles Dodgers' organization, was traded to the Philadelphia Phillies early during the 1961 season, went to the White Sox after the 1961 season, and was shuffled between the majors and minors for two seasons before being acquired by the Mets in April, 1964.
With the Mets, Smith batted .239 with 20 home runs in 1964, and .244 with 16 home runs in 1965.
The Cardinals traded an over-the-hill Ken Boyer to the Mets for Smith and little lefty Al Jackson after the 1965 season. Smith batted .266, hit 10 home runs, and had a .301 on base average with the Cardinals.
In his first season with the Yankees, a season in which they finished ninth, Smith hit an anemic .224 with nine home runs.
In 1968, he appeared in only 46 games, batting .229. After the season, the Yankees sent him to San Francisco for Nate Oliver.
Fair to Roger Maris
The Yankees had been fair to Roger Maris during his injury-plagued seasons, but in the end, they disrespected him.
Hampered by wrist and leg injuries, Roger hit a total of only 21 home runs his last two seasons in New York.
At the end of the 1965 season, the Yankees put Roger on waivers. Only one team claimed him.
His name was pulled back, and when the Yankees tried to trade him during the winter meetings, there was almost total indifference.
The Yankees never cut Roger's enormous $72,000 salary, realizing that his injuries were not his fault. Any team that acquired Maris could cut him only 25 percent, which meant he would still make $54,000.
The Better Choice
Charlie Smith was the best the Yankees could get. Fine, that is understandable, but the Yankees had another choice.
At the time of the trade, Lee Macphail told reporters,
"I think Maris can have three or four more good years, and we hope he does. There doesn't seem to be anything wrong with him physically."
The Yankees should have taken the option available to them. They should have kept Roger Maris.
References:
By LEONARD KOPPETT. (1966, December 9). Yankees Trade Maris to Cardinals for Smith, a Former Met Third Baseman :NO OTHER PLAYERS INVOLVED IN DEAL Smith, 29, Is Right-Handed Hitter and Considered an Adequate Fielder. New York Times (1923-Current file),p. 64. Retrieved March 7, 2010, from ProQuest Historical Newspapers The New York Times (1851 – 2006). (Document ID: 121734042).
Charlie Smith at Baseball Reference
Read more New York Yankees news on BleacherReport.com