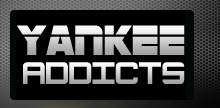 April 26, 2009 · Micheal Robinson · Jump to comments
Article Source: Bleacher Report - New York Yankees
Two games versus the Boston Red Sox in April does not mean anything.
As far as I am concerned, without Alex Rodriguez and the struggles of our number two starter Chien-Ming Wang, I am satisfied with a 9-8 start heading into Sunday.
Watching the last two games has been tough, because both games the Yankees could have easily won and they let them get away.
The positives I am seeing aren't outweighing the negative, but it is close.
Robinson Cano is hitting .366 and tearing the cover off the ball, adding two home runs and five RBI in yesterdays loss.
Our top two hitters, Derek Jeter and Johnny Damon are both hitting over .300 and Jeter is off to his best start, power-wise, since the 1999 season with four homers already.
Nick Swisher hasn't been as sweet as he was the first two weeks of the year, but he is still hitting well.
Mark Teixeira hasn't paid off much at the plate yet, but his glove has shown up many and that is a sign of great things to come at first base.
Despite A.J. Burnett's performance in Boston, he is still 2-0 and one of our better pitchers, eating up innings after Wang destroyed the bullpen.
Alex Rodriguez is to begin a minor league assignment this week and could return before the original May 15 target date.
The Yankee fans who didn't side with him need to realize that we are better off with him right now then without him.
With all of the drama to the side, you have to realize that Rodriguez is a crucial part to this line-up and it is showing.
My opinion is to just back him up while he is wearing the pinstripes and live with him until its over. Good things may happen, but not supporting him is only going to make it worse.
So all in all, its been a rough season, but the Yankees still have a winning record and a lot of positive things to drive off of.
Listening to the "Yankees Sucks" chants every time the Red Sox do something good or grab the lead back does get under my skin, but you expect that.
However, they weren't chanting anything when it was 6-0 in the fourth inning. How about getting behind your team when they need it, not just when they are doing good.
The Yankees need support, not abandonment.
I had two Red Sox fans that I know text me the score of yesterdays game when it was over, "16-11."
I simply replied with "26-7."
Its only April, and today is a new day.
A win from the Yankees tonight can turn the tide in a heartbeat.
Yankees skipper Joe Girardi said after the game Saturday, "Everyone struggles in this game—that's part of the nature of this game."
I agree with him. It is how you pick yourself up when you struggle that matters the most and we will see that Sunday night.
Regardless of how they are performing right now, the Yankees have been a team on a mission and are destined for great things. It might not happen this year, and I can live with that, but another title is to be had by the Yankees sooner then later.
Since their first championship in 1923, the New York Yankees have won two or more World Series titles in every decade except the 1980s and the current decade, when they won only one.
Also, they have won at least one American League pennant in every decade since the 1920s.
You don't have those kind of numbers and passion for winning and not eventually get rewarded.
So I say to Red Sox fans now, enjoy your two recent titles, you've earned them. Enjoy all of these regular season victories. However, the Yankees are going to win when it counts, very soon.