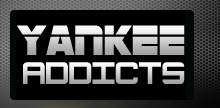 April 20, 2009 · Perry Arnold · Jump to comments
Article Source: Bleacher Report - New York Yankees
The 2009 Major League Baseball season is two weeks old.
The New York Yankees are 7-6 after a brutal 10-day road trip and one home series in their new palace.
The Bombers find themselves in second place in the American League East behind a surprising Toronto Blue Jays team. Weak starts by Boston and Tampa Bay have enabled the Yankees to only be two-and-a-half games out of first place.
It is much too early to draw many conclusions about this season. Five-and-a-half months of baseball still remain before anyone will know which teams go to the playoffs.
But there are some things that can be analyzed about the New York team. There have been some major surprises, some very large disappointments, and some performances that have been all Yankee fans could have expected.
So let's grade the Yankee players to this point and make a somewhat misguided attempt to understand what kind of team is playing in the Bronx.
These grades will be given on what was expected of the players as well as how important they are to the team overall.
This was a team constructed around pitching. The 2008 season was a major disappointment largely because young pitchers could not produce.
The 2008 bullpen had been a pleasant surprise despite some questionable use by manager Joe Girardi. Going into the new season, the bullpen was expected to be one of the Yankees' strong points.
Starting pitching was made a priority in offseason acquisitions, and Yankee managements went out and got two big horses to pull the load.
So how have the pitchers performed so far?
Let us begin with the pen
The discussion about New York Yankee bullpen pitchers begins and ends with Mariano Rivera, a certain first ballot Hall of Famer when he retires a few years from now.
Mo has been brilliant so far in 2009, just as he was last year.
Rivera has thrown five innings in the first 13 games. He has given up no runs, has struck out seven batters while walking none, and has earned three saves. Rivera earns an A+ for his effort thus far.
Jonathan Albaladejo rates a C- so far. He has pitched eight innings and has an ERA of 3.38. He has had some good outings and one horrendous one. On Apr. 13, in Tampa, Albaladejo gave up five hits and allowed three earned runs without recording an out.
Brian Bruney rates a B+. He has pitched seven innings and has an ERA of 2.57. He has been brilliant in some games. But in one appearance in Baltimore on Apr. 6, he gave up two earned runs and got only one out.
Phil Coke earns a D-. He has pitched in 5.1 innings and has an ERA of 6.75. Much was expected of Coke this year. He was expected to be one of the bridges to Rivera, but he has proved largely ineffective.
Damaso Marte has been even worse and gets an F. In just three innings, he has given up seven earned runs, allowing eight hits and serving up two home runs. He has a 21.00 ERA.
Edwar Ramirez has been only a little better. He has pitched 5.1 innings and has an ERA of 8.44, having given up eight hits and three home runs. But he has hurt himself even more by allowing six walks. Ramirez also gets an F.
Jose Veras has also been bad with an ERA of 8.53, allowing six earned runs in only 6.1 innings pitched. Veras also gets an F.
So the bullpen, except Bruney and Mo, has been a major disappointment. Admittedly, they have been put in some bad situations, particularly by Chien-Ming Wang's failure to get outs early in the game, forcing the pen to put in unexpected work.
The starting pitching has been a mixed bag
CC Sabathia was slotted as the No. 1 starter for New York this season, and he has had one very bad start, one very good start, and one mediocre performance.
CC was horrendous in his first outing, as the Yankees opened the season in Baltimore. But in his second game in Tampa Bay, he pitched exceptionally well.
For the season, he is 1-1 with a 3.57 ERA. In his 17.2 innings, he has allowed 19 hits, seven earned runs, and has surprisingly walked as many hitters as he has struck out—10 of each.
Because so much was expected of him, CC gets a C- to this point.
Chien Ming Wang has been the most unexpected and unexplained bust for New York thus far. He is without a doubt an F.
Wang was expected to be a rock on the staff, as he has been ever since coming to New York in the middle of the 2005 season.
Over the period from July 2005 through the end of the 2007 season, Wang won more games than any other pitcher in the major leagues.
He had successive 19-win seasons in 2006 and 2007 and was 8-2 in June last year before a freak foot injury, suffered while running the bases in Houston, took him out for the year.
This season, he has been unspeakably bad. He has only managed to pitch six innings in three starts. His ERA is 34.50. He has give up 23 hits and 23 earned runs in these six innings.
No one as of yet has figured out what is wrong with Wang, but somebody better figure something out soon, or the No. 2 spot in the rotation will have to be taken by someone else.
A.J. Burnett was acquired with mixed feelings by many Yankee followers, but he has been the real rock on the staff.
Following each horrendous outing by Wang, Burnett has taken the hill, knowing he had to be the stopper.
And he has been all of that. Burnett is 2-0 with a 3.20 ERA. Even more important, he has pitched late into every ballgame this year, burning 19.2 innings. This has been critical for the relievers who have been overworked much when Wang has pitched.
Burnett kept his team in the game yesterday but did not get the win as Yankee runs came too late for his personal stats. But he still gets an A+ for his work thus far.
Andy Pettitte gets an A for his two starts thus far. Pettitte was very mediocre in 2008 and signed late in the offseason to come back to the Bronx.
Pettitte is pitching in the fourth slot in the rotation, and he has been very good so far. In two starts, he has pitched 14.1 innings, has an ERA of 2.51, and has struck out 10 while walking only two.
Joba Chamberlain, only 23 years old, was given the final starting job for the Yankees.
After giving the team great help as a setup man late in the 2007 season, controversy followed Joba last year as he was converted from a reliever to a starter during the campaign.
Despite continued debate about the right way to use him, Joba was assigned to start from the close of last season. He has made two starts thus far, pitching in only 10.2 innings.
He has an ERA of 5.06 and has no record thus far. He pitched pretty well in his first start in Kansas City. But on Friday against the Indians, he was not good.
In 4.2 innings against the Tribe, he gave up six hits, five earned runs, and struck out four while walking five. He must get better to keep his starting role, and for now, he earns a C-.
The position players have also been a mix of good and bad, some outperforming expectations and some giving less than desired
One of the shocks of the early season came last week when Xavier Nady injured his arm on a routine throw back to the infield.
He has gone on the disabled list, and it remains unclear whether he will require season-ending surgery. Latest reports indicate he may be able to strengthen the arm and avoid the knife, but for now, his future is uncertain.
His replacement in right field has been one of the biggest surprises of the year.
Nick Swisher has played in every game so far and has been one of the most productive Yankees at the plate.
Swisher has 42 at-bats and has an average of .333. But his on-base percentage is .429, and he has a slugging percentage of .810.
Swish has legged out six doubles, knocked four home runs, and driven in 11 while scoring the same number himself. Swisher has to be given an A for his performance so far even though he has a suspicious 10 strikeouts already.
Brett Gardner was given the starting center field position out of Spring Training, and he started with a bang.
But Gardner has slowed noticeably as the season has gone on. So far in 45 at-bats, the rookie is hitting only .244. He has three doubles and three stolen bases. But he has also struck out nine times.
Girardi has chosen to use Gardner as his leadoff hitter in several games, and the kid is going to have to prove more to justify this confidence from the manager.
Gardner has an anemic on-base percentage of .292. But he has been good on defense and has shown a very good and accurate arm. Thus far, Gardner gets a C-.
Johnny Damon is starting in left field and has played in 11 games. He is hitting only .256 with one homer and three RBI. Damon gets a D.
Melky Cabrera was beaten out for the starting job in center but has managed to appear in 11 games, mostly as a late inning defensive replacement.
But in 17 at-bats, Melky is hitting .294 and has two home runs and only one strikeout. If Gardner continues to struggle, consideration has to be given to Cabrera seeing more playing time.
Cabrera earns a B+ for his effort so far.
Mark Teixeira was a high-profile free agent signing in the offseason. Much is expected of Tex, and despite a very slow start and some injury worries with his left wrist, there are reasons to believe he is about ready to break out.
Teixeira is hitting only .206 in the 10 games he has played. But he has hit three recent home runs and has seven RBI. His on-base percentage of .349 is sure to go up.
Tex has also been invaluable on defense. He has snared a number of errant throws from his infielders and made several remarkable plays on hot shots down the first base line. In yesterday's game, he snared a drive on what seemed like magical sleight of hand.
For his efforts on defense and his more recent offensive promise, Tex rates a C.
Robinson Cano had a disappointing 2008 season, including a terrible start. But by all reports, he worked very hard in the winter and came to camp in great shape.
Cano is presently hitting .388, has an OBP of .455, and has had three doubles, three homers, and eight RBI in his 49 at-bats. He has also been very, very good in the field. Cano rates an A+ to this point in the season.
Derek Jeter started very hot, slumped, came back to gather five hits in the last two games in Tampa and has had some very clutch performances.
But overall in 13 games and 52 AB, Jeter is hitting only .269. He does have a higher than expected eight RBI, largely on the basis of three home runs. But his OBP is only .321, and he has struck out eight times.
There is no reason to believe that Jeter will not raise his average over the course of the season. But he has also been less than spectacular on defense, making several poor throws to first in early games. Only Teixeira's glove work has saved Jeter from several more errors.
To date, the captain can only rate a C-.
Cody Ransom is keeping the hot corner warm for Alex Rodriguez until the star comes off the DL.
Everyone said if Ransom could field the position and hit just a little, he would be all right at third until A-Rod gets back.
So far, Ransom has been average at third. Yesterday against the Indians, he made one very good barehand grab on a ball that deflected off Burnett's glove. Cody managed to field and throw the runner out in one fluid motion.
But he has also had other moments when he seemed a little out of place in pinstripes. And he hasn't hit—not even a little.
Yesterday, Ransom had a bases-clearing double in the eighth inning. But everyone knows that ball should have been caught by Indians' left fielder Shin-Soo Choo. Choo lost the ball in the late afternoon sun. Even Ransom did not know what had happened when he found himself on second base.
Ransom is hitting a pathetic .150 and has an OBP of .190. Worse, he has shortened the lineup with 11 strikeouts in his 52 ABs. Ransom gets a D-.
Ramiro Pena has filled in for nine games and has only 11 ABs. But he has been almost as bad as Ransom at the plate—hitting .182. Pena has a very good glove and is probably better than Cody in the field.
He has not had enough at-bats to get a good picture, but at this point, he seems overmatched by big league pitching. Pena also gets a D-.
Jose Molina has been in eight games behind the plate for the Bombers and has played his usual stellar defense. He is not expected to hit very much, and yet he has not even met the low expectations on offense.
Molina has been really bad at the plate, so far hitting only .211 in 19 at-bats. He has an OBP of just .250 and has struck out three times while driving in only one run.
But because he has been so good behind the dish, especially with Burnett, Molina gets a B-.
Jorge Posada started out torrid with the bat but has slowed perceptively. He did manage one home run, pinch-hitting for Molina in yesterday's finale against the Tribe. But Posada is only hitting .256 for the year and has an OBP of .333.
He does have three home runs and 12 RBI to lead the team in that category. So despite his bad BA at this point, Jorge gets a B.
Designated hitter Hideki Matsui has started very slowly. But he has also been used sparingly by Girardi. He has only 31 at-bats in the team's first 13 games and has a terrible .194 average.
Matsui has only one home run and three RBI. His OBP is .375 on the strength of eight walks. But he obviously has been limited by two successive knee surgeries and can no longer run.
Matsui gets a D-.
If he is to remain with the team and produce anything at all, Girardi has to start him more. If he physically cannot play, they just need to cut him loose and pay him the remainder of his salary while they replace him with someone who can give them something.
Overall, the Yankees have been a disappointment. Fans expected much more than they have gotten so far, and for the team to be just above .500 will not be tolerated.
The final grade goes to Joe Girardi. He gets a D-.
Girardi has made questionable moves with his bullpen.
He has tried to mix and match and has used players in situations that are hard to understand.
He began the season with an experiment by using Jeter as the leadoff hitter and sliding Damon to the two hole.
But in several games thus far, he has put the rookie Gardner at leadoff. This is not justified with Gardner hitting only .244. His speed cannot be put to use because he strikes out too much and does not get on base.
And in yesterday's game with Gardner leading off and Jeter hitting second, Girardi put Damon in the three hole.
The third spot in the order is usually reserved for the best hitter on the team—a player with a combination of average and power.
Damon, at one time in his career, might have met those descriptions, despite being a prototypical leadoff man. But now, he is certainly not a three hitter.
Girardi put a player hitting .256 with only one home run and three RBI in the three hole. That was inexplicable.
Jeter has produced more than Damon so far this year, and it would have made much more sense to put Jeter in the third spot.
Of course, Girardi doesn't like to have two left-handed hitters follow each other, so he wouldn't put Damon behind Gardner. But Gardner should not have been hitting first anyway.
If Gardner had hit eighth, before Molina, Girardi would have satisfied his wish to break up his lefties.
Girardi has made a number of moves that just cannot be justified, and for that reason, he almost gets an F. If the team is not appreciably better six weeks from now, there will be different manager to grade for the most storied team in baseball.