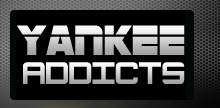 April 27, 2010 · Jason Kim · Jump to comments
Article Source: Bleacher Report - New York Yankees
The Yankees consist of great talent, including Alex Rodriguez, Derek Jeter, Robinson Cano, and Mark Teixeira. And don't forget about the man behind the plate: Jorge Posada.
But what about the future of this infield? What will happen when Jeter is too old to play everyday? And what about when A-Rod, Teixeira, and Posada are no longer productive?
Here is the future of the Yankees infield.
First Base: Jesus Montero
Yes, Montero isn't catching. He has the potential to be an All-Star hitter, and there's a good chance he will be, but he won't be able to produce the expected 30 HR and .300 batting average while catching 162 games. There is another replacement at catcher, and Montero will switch over to first base, as many catchers sometimes do. Also note the fact that Montero isn't the brightest on the defensive side of things.
Second Base: Robinson Cano
Robinson Cano will be the Derek Jeter of the future for this club. The Yankees love him too much to let him go, so Cano will be a Yankee until the day he retires—unless he gets all Milton Bradley of 2009 on the Bronx Bombers. But that probably won't happen, as he can not only swing the stick, but can also field and knock some bombs over the fence.
Shortstop: Eduardo Nunez
He might not have as much power as Derek Jeter, with 15-20 HRs, but he can definitely do the small things that make teams win. He can field, run, and put the bat on the ball. He led the Yankees farm system with 160 hits.
Nunez isn't mentioned as much as he should be when it comes to Yankees prospects. He can steal bags (19 stolen bases in 2009), and can play everyday. Don't be surprised to see him next year at the big league level to serve as a backup.
Third Base: Brandon Laird
Keep in mind of the name of Brandon Laird. The Yankees aren't that deep at third base in the farm system but if there is one guy to call up it's Laird. Last year he played in A Ball, (or A League) and hit 13 HR. Not that impressive for a guy playing third, but he still drove in 75 RBI. A .333 hitter with RISP, he now plays in Trenton (AA Team), where it will show if he has a chance at the big leagues, or if he's just another player.
Catcher: Francisco Cervelli
He was one of the Yankees' backup catchers in 2009, and now he is the only one. Cervelli seems to work well with the pitching staff, especially with C.C. Sabathia. He might not show power at the dish, but he certainly knows how to hit, as he hit .298; impressive for a rookie that had to share time with another backup: Jose Molina. He has that ability to hit .300 full time in the future years.
Read more New York Yankees news on BleacherReport.com