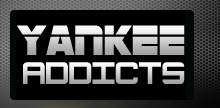 News published by
August 27, 2011
Before he becomes another Joba Chamberlain, trade him for the sake of the organization. I still don't understand why Montero causes so much excitement: he's not fast, he has improved in ...
March 31, 2011
First of all, let me state that I have nothing against GM Brian Cashman or the New York Yankees organization. I know Cashman does his best to keep a playoff-contending ...
January 31, 2011
The New York Yankees has agreed to a one-year, minor league contract with starting pitcher Freddy Garcia, according to ESPN's Jerry Crasnick.Just after a few days of expressing interest ...
January 18, 2011
The New York Yankees are getting close to an agreement on a one-year contract with Andruw Jones, according to Tim Brown via Twitter. After just a few days being told to ...
December 24, 2010
The New York Yankees have made small signings this year, especially after they missed out on the Cliff Lee Sweepstakes.Players include Russell Martin, Luis Vizcaino, and Pedro Feliciano.And if you ...
November 26, 2010
After reports of New York Yankees Shortstop Derek Jeter turning down a 3 year, $45 million deal, general manager Brian Cashman told Jeter and his agent Casey Close to test ...
October 10, 2010
The 35-year-old veteran backup catcher, Jose Molina, can be the difference maker for the New York Yankees, if general manager Brian Cashman thinks of going after him. Baseball fans might wonder ...
October 10, 2010
Veteran Jim Thome's season ended yesterday when the Minnesota Twins were swept by the New York Yankees.With Thome having no contract this offseason, and amid rumors of whether he'll return ...
September 5, 2010
New York Yankees pitcher Joba Chamberlain has been one of the most overrated prospects over the past couple of years. He all made us say "wow" when he came out of ...
August 28, 2010
If a New York Yankees fan is reading this, you might just go on to comment how dumb this is, saying how Burnett will turn things around.  Hold on a second, ...