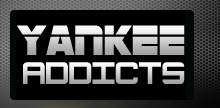 October 10, 2010 · Jason Kim · Jump to comments
Article Source: Bleacher Report - New York Yankees
Veteran Jim Thome's season ended yesterday when the Minnesota Twins were swept by the New York Yankees.
With Thome having no contract this offseason, and amid rumors of whether he'll return for another season, could Yankees general manager Brian Cashman make a move for him?
At the age of 40, he proved that he can still produce, hitting 25 home runs in just 108 games, not to mention picking up some clutch hits along the way.
He would be the DH if he joined the Bronx Bombers, along with Lance Berkman and guys who need a break every once in a while. Manager Joe Girardi would even have more options and depth with the addition of the home run-happy, slugging first baseman.
Thome could also easily reach the 600-home run mark, as Yankee Stadium is the dream for left-handed power hitters.
He also stated earlier this season that it would be tempting to retire if the Twins won the World Series, telling us that he would like the win another championship before he hangs up his uniform.
The Yankees are going for their 28th World Series win, and they make a playoff push every single season.
The Bronx is a perfect fit for Thome, and he doesn't come very expensive, either.
It certainly won't hurt the team.
Read more New York Yankees news on BleacherReport.com