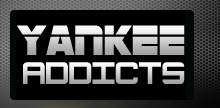 May 2, 2009 · Ari Kramer · Jump to comments
Article Source: Bleacher Report - New York Yankees
Instead of taking a left at the bottom of the southbound 4 Train's 161st Street Station stairwell, I headed to the right. The impenetrable mass of fans clad in Yankees' paraphernalia was just as dense as it would have been last year, but it was located a block farther north.
The aura outside the recently inaugurated Yankee Stadium was that of power and intimidation. Whereas the old Yankee Stadium was a plain, ordinary building that kept its illustrious history within its walls, the new Yankee Stadium flaunted its organization's success to pedestrians on the street. Reminiscent of the Roman Coliseum, the structure's façade was capable of daunting entering fans.
Once inside, the awe continued to develop inevitably—how could one not be inspired by the dangling banners of Yankee legends in the Great Hall? The inside of the ballpark was very similar to that of the recently opened stadiums in Philadelphia and Washington—the entrance hallway was seven stories tall and the field was visible from the rest of the hallways so that fans could watch the game during concession breaks—but, unlike the Phillies and the Nationals, the Yankees have a famous, successful history to transfer to their new home field.
The structure and the inside of the old stadium were nothing special. It was the actual field that inspired awe—fans would be left speechless when they would realize that the outfield in front of their eyes was the same outfield that Babe Ruth, Mickey Mantle, and Joe Dimaggio all once roamed. The Yankee organization embellished the entire stadium with banners, photos, and signs to commemorate the legends and history that were made at the old park.
Now, there is nothing legendary about the new field. Jorge Posada's walk-off single to cap off a two-inning, six-run comeback against the Angels is currently the most exciting event that has occurred on the recently planted grass.
Although the new Yankee Stadium has no history—yet—watching the Yankees play there is just like it always has been. Sure, the majority of field-level seats were vacant, the upper deck was noticeably shorter and farther away from the action, and seats went all the way around the perimeter of the field. However, once Derek Jeter led the team out for the top of the first inning and the first pitch was thrown, I realized that it was just another Yankee game.