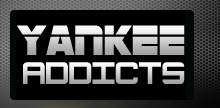 News published by
August 4, 2014
The Detroit Tigers had an opportunity to break through in the second inning, but the New York Yankees scored first and took a 2-1 lead they would preserve through the ...
October 14, 2011
While the New York Yankees watch the MLB Playoffs from their couches, they can also start planning next year's roster.Free agency and offseason trades can potentially alter current plans, but there ...
October 13, 2011
Brian Cashman, call the doctor. Please. Mark Teixeira needs Curtis Granderson treatment from Kevin Long. Well, reverse Curtis Granderson treatment, actually. Teixeira, the New York Yankees' switch-hitting first baseman, struggled ...
October 7, 2011
New York's Alex Rodriguez swung and missed, Detroit's Jose Valverde danced and the Yankees' quest for World Series No. 28 was officially postponed to 2012 as the Tigers captured Game ...
May 31, 2010
Catching on a daily basis isn't easy. Not even if you're an exuberant 24-year-old named Francisco Cervelli. Cervelli's zeal for the game of baseball helped propel him to a scorching start ...
May 29, 2010
With one out in the top of the seventh inning, the New York Yankees led the Cleveland Indians 10-6. Austin Kearns had just singled in a run against David Robertson, who ...
April 11, 2010
New York Yankees manager Joe Girardi has both his critics and his advocates. If Kelly Shoppach hadn't broken up CC Sabathia's no-hitter with two outs in the eighth inning of yesterday's ...
April 9, 2010
The Tampa Bay Rays saw two Javier Vazquez's tonight. In innings one, two, three, and five, they faced a pitcher whose velocity and command made him difficult to hit. The Rays ...
April 8, 2010
We all knew what to expect when the New York Yankees headed up to Boston to face the Red Sox in the Opening Series of 2010. The games would be long, ...
December 22, 2009
When a friend told me this morning that Melky Cabrera had been traded, I was shocked. It wasn't even a rumor. It just happened. Abruptly. Despite Melky's inconsistency at the plate, ...