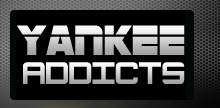 April 11, 2010 · Ari Kramer · Jump to comments
Article Source: Bleacher Report - New York Yankees
New York Yankees manager Joe Girardi has both his critics and his advocates.
If Kelly Shoppach hadn't broken up CC Sabathia's no-hitter with two outs in the eighth inning of yesterday's game between the New York Yankees and the Tampa Bay Rays, Girardi would have made a managerial move that could have converted many of his supporters.
He told ESPNNewYork's Wallace Matthews, "Shoppach was [CC's] last hitter, no matter what."
That translates to, "If CC had a no-hitter entering the ninth inning, I wouldn't have let him attempt to make history."
The reasoning? "You have to think big picture."
Girardi didn't want his horse of an ace to throw too many pitches, because he feared doing so could tire him out before October.
But, that's an unreasonable concern when your pitcher is pursuing history and when your pitcher is the seemingly indefatigable Sabathia. It's an opportunity that he might never have again.
If Girardi had a history of limiting his ace's pitch count, this wouldn't be as surprising. But, the move he says he would have made would have been inconsistent with the way he managed Sabathia last year.
Let's review Sabathia's second start of 2009. The southpaw held a 6-0 lead over Kansas City entering the eighth inning and had already thrown 101 pitches.
Ordinarily, a manager concerned about the "big picture" would pull his pitcher with a six run cushion against one of the league's weakest offenses, asthe bullpen could easily record the final six outs.
The Girardi of 2009 left Sabathia in for the eighth, eventually pulling his ace with two outs and 108 pitches thrown.
Girardi let Sabathia exceed 120 pitches three times last season. One of those occasions was on April 16th, the southpaw's third outing of the year.
In that start, Sabathia didn't have his usual ace stuff, ashe walked five and couldn't finish the sixth inning, yet Girardi insisted on keeping him on the mound for 122 pitches.
If Sabathia could throw 120+ in his third start of 2009 and still succeed in the playoffs, shouldn't he be able to throw five or 10 more in his second start of 2010?
He deservedly has the reputation of a horse, so why not?
In addition, Sabathia has an extra day of rest because of tomorrow's off-day.
Of course, none of this truly matters.
Sabathia lost his no-hit bid after his 111th pitch, so when Girardi pulled him, nobody was surprised.
However, Girardi wouldn't have told Matthews his intentions if he didn't mean what he said.
And what he said is worth questioning.
Read more New York Yankees news on BleacherReport.com