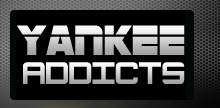 May 20, 2009 · Perry Arnold · Jump to comments
Article Source: Bleacher Report - New York Yankees
Tuesday night there were a lot of heroes for the New York Yankees as they won their seventh game in a row and climbed to five games over .500.
ARod hit a home run for the fourth game in a row.
Mark Teixeira hit a two run shot in the seventh inning which was his 11th home run of the young season.
Derek Jeter came through in the clutch with a double that drove in three runs and broke open a tight game.
And C.C. Sabathia put another notch in the belt he is crafting to prove he is worth the money the Yankees gave him in the off season.
Sabathia pitched seven strong innings and gave up only one earned run, which came in a freaky first inning.
But the guy who is getting a lot of attention right now is rookie catcher, Francisco Cervelli.
Cervelli would not be in New York except for injuries to Jorge Posada and Jose Molina. Those two veteran catchers had the backstop position tied down and until they both went on the disabled list with leg injuries within three days of one another, there was no reason for any but the most ardent fans to even know who Cervellis was.
But the Cisco Kid is making a name for himself very quickly.
Andy Pettitte was quoted after last night's game as saying how impressed he was with Cervelli's confidence.
Pettitte pointed out that the kid knows that he wants to do, calls the pitches without second thought and that this imbues the pitching staff with confidence.
It is a confidence the staff seemed to lack early in the season, especially when throwing to Posada.
But since Cervelli joined the team the Yankees are 9-2 and have played better than anyone would have expected with a kid from Double A behind the plate.
All the talk two weeks ago was about whether the Yankees could just hold on and not dig themselves too big a hole until Posada and/or Molina could get back.
But now they seem to have a new spirit and much of the credit has to go to the Cisco Kid.
In last night's game, Cervelli caught Sabathia who pitched extremely well. Cervelli also got another hit and finished the game with a .370 average.
But it was what Cervelli did in the seventh inning that caught the attention of a number of observers.
With two men on and one out, Cervelli came to the plate. He didn't strike out. He didn't pop the ball up in the infield.
Instead, he put the ball in play and the O's young shortstop, Andino, rushed the play trying to get a double play on the slow roller Cisco had hit to him.
Andino muffed the ball and it rolled away from him onto the outfield grass.
The Yankees then had the bases loaded for Derek Jeter who came through in the clutch with a double to right center field.
And Cisco made another big play there. He had gone from first to third on the hit and rounded third.
Centerfielder, Adam Jones bobbled the ball and then threw to the infield. When no fielder chose to pick the rolling ball up, Cisco broke for home and slid in for another Yankee run.
It was not a spectacular play. But it showed the rookie has instincts for the game. He made this play on his own, not relying on third base coach, Robbie Thompson to push him home.
Cervelli has shown he has some intangible qualities about this game that are not easy to find.
It has something to do with talent. It has something to do with training.
But it has more to do with an innate understanding of the game and an ability to be in tune with what is going on on the field, almost to be able to anticipate what is going to happen.
It is the quality that has made Derek Jeter a standout for fourteen years.
And there is something else about Cervelli. He has shown that, even though he is a rookie, he will take charge of the game.
He body language, his facial expressions, his attitude remind this observer of another Yankee catcher. It is almost sacrilege to mention this young kid in the same sentence, but Cisco reminds one of Thurman Munson.
Munson was into every minute of the game. Munson let you know he was in control. And the play Cisco made last night when he scored was right out of Thurm's playbook.
For whatever time he is with the big team, Yankee fans should make certain to enjoy this kid who brings so much to the game.