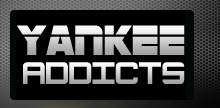 February 12, 2010 · Colin Krouse · Jump to comments
Article Source: Bleacher Report - New York Yankees
A Yankee fan's favorite number: 27.
More than any other professional team sports franchise ever.
But in New York, the people always want more.
In this case, more would be 28.
But that won't be easy, especially after last year. Repeating is so hard, because everyone's out to get you. Everybody wants to be able to say, "We beat the champs!"
Still, 28 looks like a big possibility. It calls for talent, chemistry, and a little luck.
All of which the Yankees have. I think this lineup brings out the Yankees" best in those categories.
The Rotation
CC Sabathia, AJ Burnett, Andy Pettitte, Javier Vazquez, and, yes, Joba Chamberlain.
The first four seem like a no-brainer. The first three guys were a huge part of last year's team. In fact, at times like the only sure thing about the rotation. Then, this offseason, they bring in the veteran Javier Vazquez-a 15 game winner with a 2.87 ERA that looks like a lock for that No. 4 spot.
But then we come to that pesky No. 5 role. Although the Yankees saw a couple guys in that position last year (Chamberlain, Hughes, Mitre, just to name a few), the Yankees seem to want Joba there very, very badly.
And I get that, I really do. In fact, I thought he did pretty well as a starter in the first few months. But then the Yanks try to slow him down midway through the year, and he starts being ultra-conservative. The stats don't lie: a decent 4-2 record with a 4.25 ERA in the first half, a very shaky 5-4 record with a 5.40 ERA in the second.
I'd like to see him in the pen, but like I said, the Yankees want this kid to be a starter really bad.
The Bullpen
The Yankees do seem to have some good depth in the pen, with a few standout guys. One of those guys goes by the name of Phil Hughes. Heard of him? Thought you might of.
I think that the Yankees would like to build in Hughes' success in the pen from last year-a 5-1 record and a 1.40 ERA. He did have some troubles in the playoffs last season, but I'd still like to see him late in games as a set-up guy (one, of if not the most underrated roles in the game), and I think the Yankees do too.
They do not have a problem at closer. None at all. People say that Rivera can't contribute due to his age (now at the big 4-0), but he goes out and does it year after year. Best relief pitcher of all time. Case closed.
One last thing that's interesting to me-Alfredo Aceves. The guy had did great in 2009-a 10-1 record and a 3.54 record as a long reliver. I'm excited to see him this year.
The Leadoff Spot
Last year, Joe Girardi announced that Derek Jeter would be the leadoff guy instead of Johnny Damon. I wasn't too thrilled with the idea since Damon's more of a pure leadoff guy because he works the count and is very patient, while Jeet is a lot more aggressive. But Derek hit very well out of the No. 1 spot (.336 average, 17 homers at the leadoff spot), so I'm excited to see him there this year.
The No. 2 Hole
I think Nick Johnson would best fit this role as a DH. Why? Out of the No. 2 spot, he hit .298, and had the majority of his at-bats there. More importantly, he worked 81 walks in that spot with a .433 OBP. The biggest thing a No. 2 guy can get you is a guy on base consistently, and that's what Johnson gives you. Put him at two. Nick Johnson also saw at-bats in the three, four, five, six, and nine spots in 2009.
The No. 3 Guy
I don't think there's much of a question as to if Mark Teixeira will hit third this year. As you remember, Tex struggled without a big bat like A-Rod behind him, hitting only .200 in the month of April. A notoriously slow starter, he caught somewhat of a break from Yankees fans, but was starting to be doubted when he suddenly came alive as soon as Rodriguez, a real threat, came back. Expect him to be back at No. 3 again in 2010.
The Cleanup Spot
Despite missing the first month of the season while recovering from hip surgery, Alex Rodriguez still managed to put up cleanup-guy numbers with exactly 30 dingers and 100 RBI. Even better, we saw A-Rod hit well in the postseason for once, something he got Yankees fans' respect for. I'm excited to see if he can build off that strong playoff performance.
No. 5
I think Curtis Granderson would fit this spot pretty well at LF. It's a pretty tough decision though, because he's got the speed to go in the top of a lineup and the pop to fit in the heart of it. The only thing that really helped me decide on if I should stick him in the five spot was his strikeouts-141 in 2009. Those aren't numbers you'd like to see from a guy that you need to get on base; put him at five.
No. 6
Posada seems to me like the best man for the job. He still can get it done, whether behind the plate, where, in my opinion, he calls a pretty good game, or in the batter's box, where he hit .310 with 14 homers in the No. 6 hole. Stick him at No. 6. Posada also hit at the four, five, eight, and nine spots in 2009.
Lucky No. 7
I don't know about anyone else, but I've heard people saying that Nick Swisher shouldn't be playing everyday. I have no clue what that's about, but I don't think it's true at all. Swish really helped the team gel in 2009, and he is a big part of No. 27. He doesn't have the greatest numbers in the world, but he can get you a hit or a homer when you need one. Put him at seven.
No. 8
I think Robinson Cano is still a No. 8 hitter. He had the majority of his AB's in the seven spot in 2009, but even with the exceptional .320 average, I still think of him as a No. 8 hitter, because I don't think he's really matured as a player. His numbers suggest otherwise, but it always seems like he doesn't run out the ground balls and do the little things like that. Plus, he might have a bad at-bat; let's say he strikes out. Well then, this is what really bugs me, he hangs his head, and he takes that AB out to the field, or the exact opposite-he'll take an error to the plate with him. I don't know, he still just seems like a No. 8 guy still.
The "Second Leadoff Guy" (No. 9)
Okay, I'll say it. Brett Gardner can't hit. But he can field. And throw. And boy can he fly. I think this is the best spot to put him. From Gardner at the nine spot, you would basically be asking him to play good defense, and to set up the top of the order on offense. If he can produce, that's a bonus. It looks to me that the best spot for Gardner is the starting CF job at the No. 9 spot.
The Bench
A vital part of a team can be what they get off the pine. The Yankees look to have some good utility guys like Randy Winn, Francisco Cervelli, etc. These players look like they'll be ready whenever needed, which is all you can ask of them.
So all in all, the Yanks look like they're in a good position to fight for 28. That's my starting lineup. What's yours?
Read more New York Yankees news on BleacherReport.com