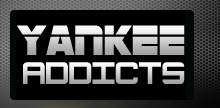 April 18, 2010 · John Frascella · Jump to comments
Article Source: Bleacher Report - New York Yankees
You don't need all-world credentials to capture a spot on this list.
You don't need a 20-win season or an ERA under 3.00.
You don't need to be a present or future Hall of Famer…
All you need is nasty "stuff."
I mean really, nasty stuff; downright filthy. The kind of stuff that sends hitters back to the bench thinking, "Do I really belong in this league?"
Face any one of the hurlers on this list, in their prime, and there's a very good chance that you'll end up embarrassed on the way back to the dugout.
You and eight or nine others that night.
Simply put, these flamethrowers are the epitome of "lights out." One, two, three…goodnight.
Oh you didn't see it? That's too bad.