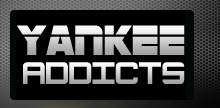 News published by
May 19, 2010
No outs, the tying run is on second base, and the Yankees are down by a single run. Before I continue, I'll set the scene.  One night earlier, Red Sox closer Jonathan ...
April 18, 2010
You don't need all-world credentials to capture a spot on this list. You don't need a 20-win season or an ERA under 3.00. You don't need to be a present ...
December 22, 2009
Come on now, this is getting a little ridiculous. A year after acquiring the high-priced trio of C.C. Sabathia, Mark Teixeira, and A.J. Burnett, and a couple of weeks after trading ...