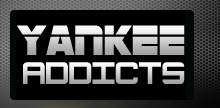 December 22, 2009 · John Frascella · Jump to comments
Article Source: Bleacher Report - New York Yankees
Come on now, this is getting a little ridiculous.
A year after acquiring the high-priced trio of C.C. Sabathia, Mark Teixeira, and A.J. Burnett, and a couple of weeks after trading for spark plug Curtis Granderson, the New York Yankees have added Javier Vazquez — a quality right-handed starter — to their already loaded roster.
And all they had to give up was Melky Cabrera and a couple of prospects?
Jeez. Why do I have to be a Mets fan?
Vazquez, 33, is coming off one of the best seasons of his 12-year major league career. With the Atlanta Braves, Vazquez went 15-10 with a 2.87 ERA and 238 strikeouts. He was sixth in the NL in ERA, and second in strikeouts.
Those are the statistics of a top-tier pitcher.
Here's the scary part: Vazquez is going to be the third or fourth starter for the Yankees. He'll most certainly follow Sabathia and Burnett, and there's a good chance that Joe Girardi will pay homage to Andy Pettitte by keeping him in the three-slot.
This is the strongest Yankees' rotation in quite some time.
Obviously I love the deal; however, there are a couple of knocks on Vazquez:
1. He pitched for the Yanks back in 2004, and did not perform well. He went 14-10, but his ERA was alarming at 4.91. Vazquez only struck out 150 batters that year, and this is a man who struck out over 200 in each of the past three seasons.
Maybe he's one of those guys who's "not built" for New York.
2. He's very close to being a .500 pitcher for his career, a statistic that doesn't seem to match up with his incredible natural ability. Vazquez has excellent two-and-four-seam fastballs, a very sharp breaking ball, and a good change-up to left-handed hitters, and yet he's only 152-149 for his career.
He's not a "winner" per say, though we must consider the fact that he played for some poor Montreal Expos teams early on.
As for the departed, Cabrera, there was little use for him on the Yankee roster. Melky is a solid defensive outfielder with a plus arm, but New York already has Granderson, Nick Swisher and Brett Gardner. They're also expected to sign a quality free agent, with an eye on left field (if not Johnny Damon).

Cabrera should help Atlanta's pitching staff with his defense, but he does not project as an All-Star type player in the future. He's a useful-but-unspectacular ballplayer.
In the end, Vazquez represents another chess piece in the Yankees' master plan to take over the solar system. All I can say is:
So far, so good.
(John Frascella is the author of "Theo-logy: How a Boy Wonder Led the Red Sox to the Promised Land," the first and only book centered on Boston's popular GM Theo Epstein. Follow John on Twitter @RedSoxAuthor .)
Read more New York Yankees news on BleacherReport.com