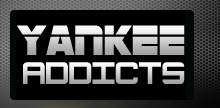 June 4, 2009 · Jordan Schwartz · Jump to comments
Article Source: Bleacher Report - New York Yankees
Chien-Ming Wang gave up five runs in 4.2 innings in his return to the Yankees' rotation, but the Bombers overcame a 5-1 deficit to beat the Texas Rangers 8-6 thanks to big hits by Mark Teixeira and Melky Cabrera and 4.1 solid innings of relief by the bullpen.
Wang looked sharp through the first two frames of his first start since April 18, but things unraveled over the next three innings as New York fell behind by four runs.
The Yankees responded, though, with a five-spot of their own in the bottom of the fifth, highlighted by a bases-clearing double off the bat of Teixeira.
With the game tied at six in the eighth, Cabrera connected for a two-run homer to give the Yanks the lead and Mariano Rivera completed the great effort by four relievers to lock up the victory.
So much for all those people who think the New York bullpen can't survive without Joba Chamberlain.
Here are the grades from the series-clinching win on Thursday afternoon at the Stadium.
Joe Girardi, Manager: (B+) I hate giving two starters a day off at the same time, but Jorge Posada and Derek Jeter's replacements were the ones who actually started the comeback rally in the fifth. Francisco Cervelli and Ramiro Pena led off with singles to center and eventually came around to score on a bases loaded walk by Nick Swisher and that double by Teixeira. The gamble paid off for Girardi, who also did a good job handling his bullpen.
Johnny Damon, LF: (A) Damon led off the game for the Yankees with a home run and later walked and scored again.
Nick Swisher, RF: (A) Swisher doubled and had a bases-loaded walk in the fifth. He's now 6-15 with four doubles batting second in the order. I guess it helps to hit behind a red-hot Teixeira.
Mark Teixeira, 1B: (A) Tex had two doubles, including that big three-run shot down the line in the fifth, but he grounded into a rally-killing double play in the seventh and derailed another run-scoring opportunity with a mental error on the base paths in the first.
Alex Rodriguez, 3B: (C+) A-Rod's RBI single in the fifth gave the Yanks a 6-5 lead, but it was his only hit in four at bats and he made a questionable defensive decision in the third. With a runner at first and two outs, Michael Young grounded the ball to the hole between third and short. Ranging to his left, it appeared that Rodriguez could have spun and fired to first to get Young and end the inning. However, A-Rod chose to backhand flip the ball to second, which was too late to nab Ian Kinsler and everyone was safe. The Rangers went on to add another run.
Robinson Cano, 2B: (A) Cano was 1-3 with a walk and a run scored and he scared the daylights out of Teixeira when he fired a return throw to first on that Young infield single. With the runner already past the bag, Tex was not expecting a throw and stared Cano down after he got one.
Hideki Matsui, DH: (D+) Godzilla was 0-3 with a walk.
Melky Cabrera, CF-RF: (A) Yet another game-winning RBI for Cabrera, who connected off of C.J. Wilson in the eighth for a two-run homer.
Francisco Cervelli, C: (C-) The backup catcher singled and scored in four at bats, went 0-1 throwing out base stealers and committed an error.
Ramiro Pena, SS: (A-) Pena went 1-3 with a walk and run scored but was gunned down attempting to steal second.
Brett Gardner, PR-CF: (INC) Gardner pinch ran for Swisher in the seventh and played the last two innings in center.
Chien-Ming Wang, SP: (F) Wang retired the first six batters he faced on good sinkers down in the zone, but then his pitches began rising again as he was touched up for seven hits over his final 2.2 innings. To show you how bad he was over his first three starts, though, this five run, 4.2 innings pitched effort actually lowered his ERA from 16.07 to 14.46.
Now that Girardi and General Manager Brian Cashman revealed that they rightfully had no intention of shipping Chamberlain back to the bullpen, the debate becomes should Wang be starting over Phil Hughes. This is a more difficult decision because Hughes has been pitching better of late, but I believe Wang (46-15 over the previous three seasons) deserves at least a couple more turns to show further improvement before considering swapping roles with Hughes.
Alfredo Aceves, RP: (D+) Aceves retired only five of the nine batters he faced, but surrendered just one run on the homer by Kinsler.
Phil Coke, RP: (A) Retired all four batters he faced, including two via the strikeout.
David Robertson, RP: (B+) Threw one pitch and got the win. Someone needs to change these scoring rules.
Mariano Rivera, RP: (B+) A WHIP of 2.00 is good enough for the save. Someone needs to change these scoring rules.
Yankees Overall Grade: (B) Great hitting and solid relief work offset another bad start by Wang. This was a big win because it was the rubber game of the series and a loss would've dropped the Yanks into second place, but a win gives them the best record in the American League.
They now have 10 big games coming up against the Rays, Red Sox and Mets and a good record for that stretch would be 6-4.
Jordan Schwartz is Bleacher Report's New York Yankees Community Leader. His book "Memoirs of the Unaccomplished Man" is available at amazon.com, barnesandnoble.com, and authorhouse.com.