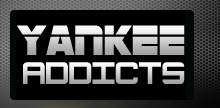 October 15, 2010 · Bronx Baseball Daily · Jump to comments
Article Source: Bleacher Report - New York Yankees
This morning we were talking Rangers with The Newberg Report and this evening we will be talking with a Rangers blogger.
This time we'll be discussing the same questions with Micah Chaplin of Baseball is My Boyfriend. She's been following the Rangers since 2005 and blogging about them since 2007. A member of MTR Media, they are also fellow members of the Baseball Bloggers Alliance.
Thank you Micah for taking the time to answer our questions. I really like doing these types of posts and it wouldn't be possible without the cooperation of the other bloggers. On to the questions.
Bronx Baseball Daily: How is Cliff Lee's back?
Baseball is My Boyfriend: I think Cliff's back is fine. He certainly didn't appear to be hurting in his recent outings against Tampa Bay.
BBD: How are Josh Hamilton's ribs?
BBIMBF: Given how Josh described the pain he had while he was out, I would imagine he probably has some lingering aches. That said, Josh is hardly the kind of guy who's going to sit or play at less than 100 percent. His wife has even asked him to stop running into walls, but clearly, he hasn't listened. And if he won't listen to Katie, I'm not sure he'll listen to anyone.
BBD: Any other lingering injuries that we should be aware of?
BBIMBF: David Murphy's groin may still be an issue. He was a real key to the Rangers' success in the late part of the season when Hamilton and Cruz were sidelined. But ever since his groin injury, he hasn't been the same. Maybe the last week or so off has been good for him, though.
BBD: Yankees fans are worried about Texas' running game, tell me about that. Who are the main culprits, how are they going to exploit the Yankees? Is that the biggest part of their offense?
BBIMBF: Bengie Molina. Just kidding. Although he did get a stolen base in the ALDS. And don't forget he hit a triple in Boston earlier this season (to complete the cycle). But seriously, Elvis Andrus and Julio Borbon are probably the biggest base-stealing threats. The pitchers shouldn't turn their backs on Ian Kinsler either, though.
Ron Washington loves the double-steal and the team has successfully executed this many times with any combination of Elvis-Young, Elvis-Kinsler, Julio-Elvis, etc. You're probably seeing the key ingredient there.
I don't know if running is the biggest part of the offense, they've made plenty of outs on the base paths this past season when they didn't run smart, but certainly it's an aspect Washington will always be pushing.
BBD: How do you feel about the decision to not use Cliff Lee on short rest?
BBIMBF: I am fully supportive of this decision. Sure, he's the frontline weapon for this team, but his history shows he is not effective on short rest. Plus, I have a significant amount of trust in the other pieces of the Rangers' playoff rotation—C.J. Wilson, Colby Lewis and Tommy Hunter. Which leads to the next question…
BBD: Tell us about the rest of the rotation?
BBIMBF: I will be the first to admit I was not thrilled with the idea of C.J. Wilson going back to the starting rotation this season. He came up as a starter, and I suffered through some of his early starts in 2005. They were painful. Awful.
Then he went to the bullpen and eventually the closer role. I adore C.J., but there were times he really broke my heart out there. C.J. has proven me wrong, though. I look forward to his outings, and I completely trust him with the ball in a big game.
Colby Lewis has been the victim of no run support for most of the season. I only worry about him if he gives up more than four runs. I'll talk about Tommy Hunter below.
BBD: Discuss Tommy Hunter, how does he match up against AJ Burnett?
BBIMBF: Tommy Hunter has had his ups and downs as a major leaguer, but we don't call him "Big Game" for nothing. He can handle the pressure of important contests, and even when he doesn't have his best stuff, he will often find a way to work through it.
BBD: What's the state of the bullpen? Who's hot, who's not?
BBIMBF: The bullpen is probably the biggest question mark right now. I give a thumbs-up to the two Darrens (Oliver and O'Day) as well as Alexi Ogando. Derek Holland still makes me nervous (unfortunately, because I really like the guy), and Dustin Nippert just hasn't been the same since he took that line drive to the head.
Oh, and do I really have to talk about Neftali Feliz? 40 saves in the regular season—most ever for a rookie. I could do without his occasional "hey, let's put a runner on just for fun" drama, but there's no one I'd rather see in the ninth than him.
BBD: What's the state of the lineup? Who's hot, who's not?
BBIMBF: Hot—Ian Kinsler and Nelson Cruz (each batting over .400 with three HRs in the ALDS)
Not—Michael Young and Vlad Guerrero…and both of them will need to get it together for the team to be successful in the ALCS
BBD: Who do you consider the most overrated/underrated players on the Rangers?
BBIMBF: I don't think any of the players is overrated. At least not anymore. I was not a fan of Rich Harden, so I shed no tears when he was released earlier this month. I also failed to understand the acquisition of Cristian Guzman, and I'm glad I don't have to watch him anymore. I'd say the same about Jorge Cantu, but he earned a little bit of my respect in the AL West-clinching game in Oakland.
BBD: How appropriate is it that the Rangers are facing two of their biggest stars of the past decade in Mark Teixeira and Alex Rodriguez in the playoffs?
BBIMBF: I would agree Tex and A-Rod were big names in the Texas franchise in years past. They are now among the most disliked opponents. I was not a fan when Rodriguez was a Ranger, so I really don't have any feelings about him one way or another.
Teixeira is another story. He is the reason I developed an interest in baseball and became a Rangers fan. I cried the day he was traded, and I wasn't sure my baseball heart could be repaired.
And then he started shooting his mouth off about how he was so much better off in Atlanta, Anaheim, and now New York. Maybe that's true, but it's kind of like hearing your ex tell everyone else how bad you were in bed while praising the talents of their new significant other.
That stung, and I no longer have any affection for Mark. At all.
I guarantee both of those guys will be booed loudly at Rangers Ballpark. And Rangers fans will delight in beating the two guys who thought they were too good for the Texas organization.
BBD: Give us a prediction for the series…
BBIMBF: I think it goes seven games. And I think the Rangers take it. Maybe that's a homer prediction, but at this point in the season, my boys have given me no reason not to believe.
Thanks again to Micah. I really appreciate it, but hopefully her prediction is wrong.
Most Commented Posts
Read more New York Yankees news on BleacherReport.com