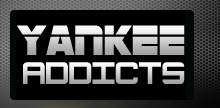 April 15, 2010 · Dan Hanzus · Jump to comments
Article Source: Bleacher Report - New York Yankees
I love going to Yankee games. Love, love, love it.
My feeling is probably similar to how Hank Steinbrenner reacts when the Phillip Morris Convention rolls into town. Pure titillation.
So when my buddy Mark offered me a ticket to the Yankees' home opener against the Angels on Tuesday, you can guess that my schedule was quickly cleared.
Being your dutiful Yankee blogger, I felt it was my responsibility to do a couple of laps around the House That George Built and report on what I saw.
Please excuse my shoddy camera work. I used my camera phone, which makes several of the photos look like stills from the Zapruder film. Also, I drank nine beers between 11 a.m. and 5 p.m.
Why don't you join me?