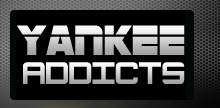 April 8, 2010 · Tom Au · Jump to comments
Article Source: Bleacher Report - New York Yankees
The New York Yankees won two out of three in their opening series.
It was against the Boston Red Sox.
In Fenway Park.
That's AWESOME.
That's because the Bronx Bombers will have no tougher opposition in the American League East with the possible exception of the Tampa Bay Rays.
And probably no tougher opposition elsewhere in the entire American League, with the possible exception of the Los Angeles Angels.
And those Angels no longer have John Lackey because Lackey was pitching last night for Boston. And his team lost. (He earned a no decision.)
The Rays still have a better record, at 2-0. But that's without allowing for "degree of difficulty." Their opponent, the Baltimore Orioles, are hardly the Red Sox.
And unlike the New Yorkers, the Rays were playing at home.
More impressive than the victories themselves is how they came about. The modern Yankees have a veritable "Murderer's Row" of hitters. That ensures that their pitchers will get good run support on most nights.
Their Achilles' heel has been their pitching, particularly starters. No such spot this time. C.C. Sabathia lost the opener, but it came against the Red Sox' best pitcher, Josh Beckett.
For some strange reason, both Boston and New York put up their third best pitchers, Jon Lester and A.J. Burnett on the second day, and their second-best, John Lackey and Andy Pettitte on the third rotation.
But the result was two "true" matchups. That is, two five inning, four-run starts on day two, and two six-inning quality starts on day three.
Relievers have been another question mark, which is to say that the Yankees used to lose most low scoring games, particularly when tied.
But last night, after a weak opening day showing, Chan Ho Park pitched three innings of perfect middle relief before Mariano Riviera closed out the game in the 10th inning for a 3-1 victory (tied 1-1 at the end of nine).
The night before, Alfredo Acevedo, Dave Robertson, Damaso Marte, Joba Chamberlain, and Riviera also pitched scoreless late-game ball.
The Yankees can still be beaten (occasionally). Even the Pittsburgh Pirates did so twice in spring training when they found a weak spot (probably a temporary one) in C.C. Sabathia.
But they're not about to be overpowered. Their first loss in Boston, 9-7, was a respectable two-run deficit.
Barring an unlikely, terrible series of events such as a rash of injuries, look for the Yankees to post another 100-victory season in 2010. With few leaks in their system, opportunities to beat them will be few and far between.
And if they go into the post season on a roll, they could win the World Series.
Again.
Read more New York Yankees news on BleacherReport.com