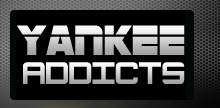 June 24, 2009 · Kate Conroy · Jump to comments
Article Source: Bleacher Report - New York Yankees
Can you believe the mid-point of the baseball season almost upon us made known by the upcoming All-Star break serving as the intermediate point? Well believe it because it's here….
It is only fair that I can conclude the past of my Yankees first 82 games with the passion of a true fan but being honest where needed. Furthermore I will attempt to reason with any doubters of the future scenarios that could play out ahead in determining if the Bronx Bombers will make the post-season.
I just want to clarify that the future is not a fact yet and there are so many obstacles that are out of the Yankees range regarding other teams performances that could play major impacts all around baseball.
With the many injuries that will definitely occur and some break out performances that nobody had even cared to have thought of it is impracticable to anticipate for this reason.
I am talking with the Yankees team and what needs to be tried or done to make New York have the best odds of getting back in the place where the Yanks used to be a regular in.
I have written this positive aspect many times already on my blog. The team's foremost and most crucial improvement displayed by the Yanks is they are finally working as a team.
I have witnesses this in every sport that it does not matter how many LeBron James or Tom Brady's are on a team if there is no "team" and only individuals with big egos their will be no championships.
A bunch of scrappers who stand behind any guy they call a teammate no matter what or why but just for that fact alone is crucial and especially in baseball.
The days of the Yankees decade of the 90's are years back. And regardless of the money spent on star players, this year's NY Yankee team works together and plays together which is something money cannot buy.
Now the Yankees are cemented as being considered the second biggest threat in the American League to the Boston Red Sox. This might have something to do with it by having to be the comparison of what a championship team looks like being their biggest rivals.
Hey it's sports and regardless of pay checks or past steroid reports as huge distractions these men are athletes.
Athletes who are competitive and when everyone has the same desire it becomes a goal, which entails when one guy is struggling, another mate is there to pick him up. This must continue for the Yankees, which can get so tough on any team with the season's ups and downs.
I have hit myself forever doubting Mark Teixeira. The month of April was awful for him but Tex has proven himself like a super power from May onward. He does it all from performing in pressure situations, to stretching himself for the out at first.
I am inspired by his passion and consider him as of now the best player in the majors. Tex has taken on the role of consistency that was placed on him before he even played in his first regular season game. Brian Cashman should be cherished with high fives all around for making this happen for the Yankees.
The most fundamental reason the Yankees are still in fighting form is consistency from not only Tex but in a few other players. It is a diverse make up of a few veterans, some of are younger aged guys who are already familiar players, a big surprise no one saw and a player just called up for his first full season in the big leagues.
These players have stood out as persistently fighting to win a game up until the bottom of the ninth with two outs. This kind of belief that "it ain't over till it's over" is the toughest in theory. As the losses are as glorious as the wins, which as a fan takes a tolled, so imagine how the team feels.
Players I am referring to:
The Veterans who got blasted by media to be past prime must have watched Mussina last year. Jeter and Damon have both shown why each has won at least one or four World Series Rings.
This one and two punch is even more effective than before with Girardi switching Damon to go after our beloved captain. If Damon's injury is worse then were being told and Jeter is on more pain then his pride would ever let us know it would be demoralizing to the Yankees. Let's hope for the best here, as it is well deserved.
Robbie Cano was in my mind either going to Jose Reyes himself around this season or realize his ego needs to get in check. Thankfully it is the later and his hitting is inconceivable. His high contact hitting style has so much power and with such ease but without the numerous walks of the prior years.
Cano has made the second base position the most competitive in baseball. Even if he needs a reminder that all stars are surrounding him on all sides so keep the ego in the bag.
Got Melk? No not personally, but my NY Yankees sure do. Cashman caught a break with this trade falling apart because Melky Cabrera has been the biggest surprise asset with winning three games in the bottom of the ninth, fourteenth, or whatever last chance at bat it is, off his bat.
I think that Girardi had another great call with the center field position going to the highest bidder.
This brings the name Brett Garner to mind. His small frame sure plays hard and he lights up everyone watching with some of the ridiculous catches he has made in center field. I got scared he was really in bad shape when he slammed into the back wall against the nationals. Also is as fast as can be on the bases, which is a nice threat.
The second half of this season needs to see something more from the greatest player in baseball. I realize Arod just had major surgery and in researching why he was allowed to play for a straight 38 games is just plain irresponsible on the mangers fault.
Alex should have been rested at the least after every three games or at least the same idea with using him. Hopefully this will not be a problem for the rest of his season's numbers. The Yankees need Arod to perform again so rest him more but rest does not mean out till 3am with latest celebrity girlfriend.
Kate Hudson had better run and hide if she ditches Arod like she does all her other victims. Alex will bring it on the field. Look no one can be criticized for being emotional except if you knowingly are dating risky partners.
Finally to the pitching which could be a book about the Yankees situation or any club on that subject. As not to bore you with never ending stats, I will give you the crucial points only:
· CC better continue pitching like CC and that Florida pull in his favored climate better be the last.
· Burnett has got to be more consistent and in the past his second half is better.
· Petite just keep doing what you do best and rest that back.
· Joba needs to go in the middle at least on a trial bases. I have always felt he is destined to be Rivera's successor. Joba loves that kind of stage but mainly he can handle the pressure.
· Wang needs to either be moved to the middle the only area thus far he has played a wining role or just eat his $5 million cause it is not a good fit anymore. This we shall see if maybe he gets it together but now we know he is capable of enormous slumps that are not comforting.
It taxes the guys in the bullpen too much to chance it in the second half. Even after his best start against the Braves last night I still feel he is shaky even though the loss was not his fault.
· Bruney needs to just stay off the DL.
· Hughes should not be sent back down. I don't care if Wang has two electric starts in a row. Hughes should be starting to keep improving which he is doing. Better option than Wang has shown.
Overall the pitching has not been as erratic as the hitting for the Yankees. The pitchers we have are good and most teams have just one ace when we have a nice arsenal in the grand scheme of things.
Being of the opinion that pitchers are worked so hard, I am not as concerned unless CC goes on the DL. It would have been nice to have our ace in Wang back at least it is possible but I will stand behind Hughes should swap spots. That might not be on the cards if CC can't start against Mets, as AJ's suspension will not allow any to brought up.
Another plus is Xavier Nady is on assignment in triple-a Scranton so he should be back soon. I consider Nady a great example of a steady player. I do like Swisher's spirit and what it can add to a ball club but Nady better player.
Posada is playing fine and with Molina out I thought it would be serious trouble on offense and defense for Yanks. Francisco Cervelli has totally put that to rest for me. I like this guy and the big leagues seem to have made him a totally different hitter then his stats. For a young guy he displays the confidence of the opposite and the pitchers like him too.
It seems as the July mid-point creeps up the Yankees are having the same problems as in May. Hitters' are not getting runs scores and leaving an abundant of guys stranded on base. That is not good, not good at all.
I felt a more unswerving team a month back. When the line-up provides hits that put runs on the board, the pitching seems to get it done enough of the time to win series. Winning Series is key for this team and losing two in a row from inter-league teams both under .500 teams is not good.
Inter-league play used to be the time when the Yankees have played catch up. Our record was dominant in these series so alas it will only get tougher.
I think small ball needs to be implemented back again as that is a great way to win games. A team cannot rely on homeruns to win. The Yankees need to start stealing bases continually and get hits to score at least one or two runs when guys are on the bases.
Stats are great for individual aspects of a player's game but this year's Yankees are a team. I don't care who is doing what as long as you are getting something from everyone when its needed.
Consistency is key for these guys and I wish we took theses inter-league match-ups as an easy way to creep back in the race in the AL. Stupid time to fall apart!
Enough is enough. The New York Yankees have shown what this team is capable for a sufficient amount of time. It proves that surge can happen again but this time lets get back to the basics again and win series.
Hey it's baseball, it's exhilarating but equally as it's unpredictable…it's why I love it so much!