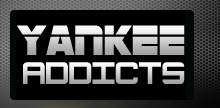 May 8, 2009 · Micheal Robinson · Jump to comments
Article Source: Bleacher Report - New York Yankees
The New York Yankees are 13-15, five-and-a-half games out of first, and have dropped five straight at Yankee Stadium.
Injuries have taken their toll on the Yankees, to say the least. Reliever Brian Bruney is on the DL and doesn't know when he will return.
Catcher Jorge Posada just went down with a hamstring injury, and his replacement Jose Molina hurt his quad and may miss some time.
Mariano Rivera—who's surgically repaired shoulder has been giving him fits—will receive a few days rest after giving up back-to-back home runs in the ninth inning to the Tampa Bay Rays on Thursday night.
Cody Ransom, who started out playing third base this season, also went down last month with a hamstring injury.
Ramiro Pena and Angel Borroa have been splitting time at third base since then, and while they haven't been horrible, the Yankees have someone better waiting in the wings.
Enter Alex Rodriguez.
Rodriguez has missed 28 games this season after offseason hip surgery in March. He will make his season debut against the Baltimore Orioles on Friday night at Camden Yards.
In extended spring training games starting Saturday, Rodriguez hit four home runs. The only thing that can slow down his return tonight are the thunderstorms forecast for Baltimore.
"He played three innings, and took extra BP and extra ground balls and it leads me to believe that he is not hurt and is encouraging. I would know if he wasn't ready to go," Girardi said on Thursday after A-Rod's final rehab game.
After months of steroid talk, surgery rehab, and anything else you can think of in the life of Alex Rodriguez, he is ready to do what he does best and play the game of baseball.
The past can't be changed. It is there, and it is over.
As far as the future goes, we should know by now that the chance of him using any kind of PED's from here on out is a very slim.
I am looking forward to seeing A-Rod play again, and I hope he keeps his head held high and hits a home run when the "boo-birds" come out to the park in Baltimore tonight.