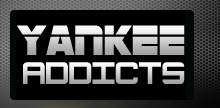 March 11, 2010 · Bronx Baseball Daily · Jump to comments
Article Source: Bleacher Report - New York Yankees
When it comes to spring training and statistics I am a non-believer. I am obsessed with watching the games, but it is more to get a feel for the players involved and it hardly ever matters to me who won, who lost, or if the players do really well or really poorly.
Sure, part of me cringes a little bit if someone has a horrible day, but in the end I realize it is spring and this doesn't really count.
For example, Phil Hughes has a 0-1 record and a 3.86 ERA. Good right? Well he's only thrown 4.2 innings which is nothing. Then there is this bit from Ben Shpigel of the NY Times :
Hughes' primary objective this spring is to develop his changeup, and with the count 1-1 he threw that pitch. It was a ball, and he fell behind Raburn. The next pitch, Hughes threw another changeup, and again it was a ball. So he fired a 3-1 fastball that Raburn clobbered over the fence in left field for a home run.

If Hughes were focused solely on getting Raburn out, he said, he would have attacked him differently. Perhaps a cutter at 1-1, he said; a curveball or another cutter at 2-1. If he did not have confidence in his changeup, Hughes would have fewer options.

"I'm looking to be successful this season, not to impress anyone in spring training," Hughes said. "I'm trying to get my changeup down to where it's a useful pitch for me, and it's never going to get there if I don't throw it."

He said the pitching coach Dave Eiland told him: "You're not going to be evaluated on your changeup. It's something that we want you to throw. If it gets hit all over the place, so be it."

In two and two-thirds innings Wednesday, Hughes estimated he threw 10 changeups. Raburn's home run was the only blemish on his pitching line in the Yankees' 9-8 victory. For someone like Hughes, who is trying to fend off four other pitchers to win the job, caring more about the process than the results could be a challenge. He said he was doing his best to block it all out.

"We've just reiterated time after time: 'We want you to work on this. This is all part of your development. We need you to work on this,' " Girardi said. "I think it comes down to does he trust what we're saying, and I think he does. If you want to be a successful starter at the major league level, we think you need this changeup."
Thoughts : This is a perfect example of a time where the stats really don't matter. What matters in this instance is his changeup and the development of it.
Also realize that it's not just the stats that don't matter for Hughes because now he is throwing hitter's stats out of whack as well.
If Hughes is not worried about his changeup, Ryan Raburn's numbers drop, but because these are games that don't matter Hughes looks bad and Raburn looks good. Even though if this were the regular season this story would be entirely different.
That's the way it is all over the league. Pitchers are working on a specific thing at the expense of their bottom line. Batters are also tweaking themselves and trying to regain their timing. It's not just a sample size issue, there are other things going on here as well and most of the time we as fans have no idea what exactly those variables are.
So relax and watch some spring training games. Maybe Jesus Montero will launch another one over more letters in George Steinbrenners name. But just remember, it doesn't really matter if he blasts a pair of homers that day or struck out twice. He probably did it against a pitcher who isn't game ready anyways.
Related Stories
Read more New York Yankees news on BleacherReport.com