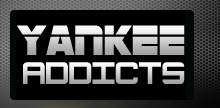 June 24, 2009 · Perry Arnold · Jump to comments
Article Source: Bleacher Report - New York Yankees
Alex Rodriguez is just the poster boy for the recent New York Yankees slump.
A-Rod is now hitting .224 and over the past two weeks has been much worse than that number would indicate.
But a host of Yankee players are sliding, and their ineptitude is reflected in the team's record and in the standings.
When the Yankees went into Boston on June 9 to start a three-game series with the Sox, their record was 34-23, and they were in first place in the American League East by one game.
Now they stand at 38-32 and are five games behind Boston.
In 15 days the Yankees have dropped six games in the division to their archrivals and toughest competition to win the East.
Derek Jeter has remained one constant, as his batting average is almost exactly what it was 15 days ago.
But almost everyone else on the team is worse.
Johnny Damon has dropped 14 points on his average and has produced almost nothing in run production.
Mark Teixeira has maintained his average. But without the threat of A-Rod, Tex has seen his home run and RBI totals go stagnant.
Robinson Cano has maintained his average, but his hits have come in spurts, and he has failed to come through in the clutch too many times in the past two weeks.
Jorge Posada struck out four times against Atlanta on Tuesday and has seen his average plummet from .292 to .272. He is producing very little and is inept on defense. He also seems surly and out of sorts on the field and in the dugout.
Nick Swisher was not hitting much two weeks ago, and he is hitting less now. His average has dropped 13 points to .240, but inexplicably, manager Joe Girardi has chosen to hit him in the two-hole behind Jeter.
Girardi seems fixated on the idea of mixing right and left-handed hitters throughout his lineup without consideration for their ability to hit in given situations.
It is impossible to explain how a hitter who strikes out as much as Swisher and has no speed can be in the second spot in this batting order.
Melky Cabrera has lost 11 points on his batting average but also seems to have lost his knack for clutch performance. He has been moved up and down the lineup, and Girardi's erratic decisions on where to play Cabrera in the outfield may be contributing to his slump.
Cabrera was a major reason for the Yankees' success in May and the first week of June, but he's doing very little right now.
Designated hitter Hideki Matsui has been unable to play in the National League parks, where New York has played its last seven games. But Matsui has little to provide and is hitting just .251.
Brett Gardner has been one of the few Yankees who has been surging over the past two weeks. He has raised his average to .285, and if he can remain consistent, he provides the only real speed threat on this team.
Yankee pitching has been very inconsistent, and when there are good pitching efforts, an anemic offense and poor defense waste the pitcher's effort.
This is what happened to Chien-Ming Wang last night, when he was very effective for all but one inning, yet the Yankees could give him no support.
At this point, Yankee management must look to some drastic changes.
Matsui should be given his outright release.
He is in the last year of an overblown contract, and with the money already wasted, Matsui should be gone and Posada should be the full-time DH.
With Posada as the DH, the Yankees should make Francisco Cervelli the everyday catcher. The kid has shown an intense energy that is contagious, and the Yankees have played much better with him in the lineup. He has also hit well enough to hold his own.
Damon should go on the DL if he is unable to play effectively on a daily basis.
For the past three years he has had ongoing leg problems. The Yankees cannot afford to have him on the bench. In one weekend game, Girardi actually sent a pinch runner in for Damon, who used to be prized for his speed.
If Rodriguez is suffering from fatigue, resting one day a week may help.
But there seems to be more wrong than rest will cure.
The key to a power hitter is the ability to get his hips into the swing. If the hip has not healed or more conditioning is needed, A-Rod should also go on the DL until he is well enough to play.
Swisher was a risky acquisition when he was picked up in a trade over the offseason. He started flashy and has done very little in the past six weeks. The Yankees should try to trade Swisher as soon as Xavier Nady is ready to come off the DL.
The outfield is still very unsettled. If Girardi continues to have a different alignment in the outfield every night, the prospects of it getting better are not good. He must settle on a center fielder and stick with him.
Girardi obviously loves Brett Gardner. If Gardner can hit, then make him your center fielder and your leadoff hitter.
Put Cabrera in right field and leave him there.
When Nady returns, put him in left field and leave him there.
Damon may be on the disabled list long term, or maybe you package him and Swisher in a trade.
If the A's would take these two and a young arm for Matt Holliday, the Yankees should make that trade to shore up their lineup for this season and to try to sign Holliday long term.
One has to begin to question if A-Rod can be productive this year at all. If not, the team will have to use Ramiro Pena at third or bring in someone else for the interim.
Finally, Girardi should be fired. For the past two seasons he has shown that he has an inability to get the most out of very good players.
He is inconsistent in his approach to the game. He has problems using a pitching staff. He has problems putting the same team on the field day in and day out, and he does not manage the game well in the late innings when critical decisions have to be made.
If the Yankees want to try to salvage this season, drastic measures must be taken, and they must be taken now.
One more week of this kind of play, and the Yankees will be too far behind the Red Sox to catch up.
Boston is not a team created to fold down the stretch. It is too strong across the board with excellent starting pitching and a tremendous bullpen.
If the Yankees have any chance of winning the East or taking the Wild Card, they have to move now and do so dramatically.