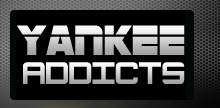 December 28, 2012 · Zachary D. Rymer · Jump to comments
Article Source: Bleacher Report - New York Yankees
One thing that can be said about the roster the New York Yankees have put together for 2013 is that it features a strong rotation. It's solid one through five.
But maybe they'll trade 26-year-old right-hander Phil Hughes anyway. Just for kicks.
…And because he may not be long for New York anyway.
There's no real talk of the Yankees shopping Hughes on the trade market, so understand that this is all strictly speculative. I was inspired to bring up the notion by Joel Sherman's column in the New York Post this week.
Sherman points out that Hughes certainly looks like a vital part of the Yankees' rotation right now, and his presence could become even more important if CC Sabathia, Hiroki Kuroda and/or Andy Pettitte are undone due to age, injuries or both. A strong season by Hughes could be a lifesaver.
However, a strong season could also be Hughes' ticket out of New York. In a day and age when mid-level starters are getting deals worth $80 million (Anibal Sanchez) and $52 million (Edwin Jackson) following strong seasons, Hughes could be the next mid-level starter to make a killing as a free agent when he hits the market next winter.
The money may not come from the Yankees. They'll be looking to get under the $189 million luxury tax threshold, and they may not even be willing to make Hughes a qualifying offer out of fear that he might accept it. Next year's offer will supposedly be around $14 million, which is no small amount of money.
If so, their options are as follows: Keep Hughes and hope for the best, or trade him now and get a reasonable return while they still can.
The thought has crossed the club's mind. Andrew Marchand of ESPNNewYork.com reported during the winter meetings that the Yankees were dangling Hughes:
Yankees are listening to offers on Granderson, Hughes and Nova

— Andrew Marchand (@AndrewMarchand) December 6, 2012
The Yankees had the right idea. Hughes' trade value was (and still is) back up after the 2012 season saw him pitch a lot like he did in his 18-win campaign in 2010, except with more innings. They could have traded him at the winter meetings to a team that was looking for a solid starter without spending too much money—a hard thing to do in this year's market.
There could be even more of a market for Hughes now than there was then. Zack Greinke, Anibal Sanchez, Ryan Dempster and Edwin Jackson have all found jobs, leaving Kyle Lohse as the only front-line starter still available on the free-agent market.
The sweepstakes for Lohse, however, has been quiet. Makes sense, seeing as how he's a 34-year-old hurler looking for a multi-year deal. Plus, whoever signs him will have to forfeit a draft pick because Lohse turned down a qualifying offer from the St. Louis Cardinals.
Yet there are still teams out there that need help for their rotations, and some of them may be willing to deal for a one-year solution like Hughes rather than sign Lohse or whoever else. The Texas Rangers, Cleveland Indians, Milwaukee Brewers and Pittsburgh Pirates come to mind.
As far as what the Yankees could get for Hughes in a trade, the Jason Vargas-for-Kendrys Morales deal could provide some precedent. Vargas, like Hughes, is a fly-ball pitcher who can eat innings, and he brought back a solid bat for the middle of the Seattle Mariners' lineup.
Since the Yankees have question marks in their own lineup, they would likely also look to acquire a bat in a trade for Hughes. If they were to fortify their offense, they could move forward as a team based more around run generation than run prevention. Status quo for the Bronx Bombers.
The dilemma: Where to put said bat?
When Marchand reported that the Yankees were dangling Hughes, they hadn't yet signed Kevin Youkilis to play third base or Ichiro Suzuki to play right field. With those two needs filled, their offensive depth chart is pretty well filled.
The only areas where the Yankees could use an upgrade is in their outfield, where they still need a right-handed bat, and at catcher. Jon Heyman of CBSSports.com has heard that the Yankees are willing to use what they have at catcher, but I have trouble buying it.
However, there's another dilemma. If the Yankees were to restrict their focus to these two areas of need, they'd also likely be restricting their list of potential suitors. That would mean less leverage for them in trade talks, not to mention potentially fewer options in terms of trade targets.
Still another dilemma: Even if the Yankees were to find a righty-hitting outfielder or a catcher to their liking in a trade for Hughes, the solution of one problem would create another. Their offense would be set, but the back end of their rotation would be significantly weakened.
Without Hughes, the Yankees would have to move Ivan Nova up to the No. 4 spot in their rotation and David Phelps into the No. 5 spot. Or they could move Nova and then go trolling the free-agent market for a good back-end option willing to accept a one-year deal.
Once again, that would mean a restricted list of options. To boot, the options that do come to mind—Erik Bedard, Jair Jurrjens, Brett Myers, et al.—fail to inspire confidence. The Yankees wouldn't be better with any of them in their rotation than they are with Hughes in their rotation, regardless of which hitter they could pick up for him in a trade.
The Yankees could certainly justify a Hughes trade if they were to somehow get a team to overpay for him. Say, if they were to get both a bat and a back-end starter better than any of their free-agent options, they'd make out like thieves to the tune of golf claps from their adoring fans.
The odds of a team overpaying for Hughes, however, are slim. He's surely not an ace pitcher, he only has one year left before free agency, and he's going to be expensive to re-sign once he hits free agency.
As such, the best thing for the Yankees to do here—and this is going to sound familiar—is nothing. The possibility of them trading Hughes is intriguing, but not practical given the likely return and the rotation dilemma a deal involving him would create.
The Hughes situation is similar to pretty much all the other situations the Yankees are facing this offseason. They're just kinda, well, stuck.
Note: Stats courtesy of Baseball-Reference.com unless otherwise noted.
If you want to talk baseball, hit me up on Twitter.
Read more New York Yankees news on BleacherReport.com