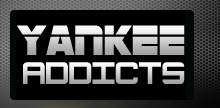 January 14, 2013 · Zachary D. Rymer · Jump to comments
Article Source: Bleacher Report - New York Yankees
The New York Yankees are counting on a big year from veteran left-hander Andy Pettitte in 2013, but there's something standing in the way of them actually getting that big year.
That would be Pettitte's involvement in the World Baseball Classic, a risky bit of business that the Yankees may decide they want no part of.
As first reported by Jon Heyman of CBSSports.com, Pettitte will be re-teaming with former Yankees manager Joe Torre to play for Team USA in this year's WBC tournament. The 40-year-old lefty will be one of a trio of starters that will also feature 2012 Cy Young winner R.A. Dickey and San Francisco Giants right-hander Ryan Vogelsong, according to Joey Nowak of MLB.com.
Frankly, I'm surprised that the Yankees didn't remove Pettitte's name from consideration for the WBC before the invitations went out, as clubs have the power to ban their players from participating in the event if they're worried about injuries taking place.
The Boston Red Sox, for example, barred left-hander Franklin Morales and designated hitter David Ortiz from consideration because of time lost to injury during the 2012 season, according to Rod Bradford of WEEI.com. Colorado Rockies shortstop Troy Tulowitzki and Los Angeles Dodgers center fielder Matt Kemp have also been barred from participating after battling injuries in 2012.
The Yankees could have done the same with Pettitte. His surprise comeback from retirement in 2012 was going strong in May and June, but a line drive off his left shin in late June landed him on the disabled list for close to three months.
The Yankees could have used this injury as an excuse to hold Pettitte out of the WBC, with their true intention being to save his left arm from unnecessary wear and tear. Evidently, the thought either never occurred to them or never struck them as being necessary.
But the Yankees should be worried about Pettitte's left arm. They have $12 million riding on it in 2013, and they need it to give them a fair amount of innings and solid production.
The World Baseball Classic could crush whatever hopes the Yankees have of getting what they're hoping for out of Pettitte, as it's not unheard of for the tournament to take a toll on starting pitchers.
Take Daisuke Matsuzaka and Carlos Silva, for example. Both featured prominently in the 2009 tournament, and their careers started going downhill when the 2009 MLB season got underway.
Dice-K made only 12 starts in 2009 and eventually underwent Tommy John surgery in 2011. His MLB career may now be over after compiling a 5.48 ERA between 2010 and 2012. Silva, meanwhile, last played in 2010 after making only eight appearances (six starts) in 2009.
If the Yankees come to fear the worst regarding Pettitte's involvement in the WBC, they'll have options. One would be to sign a low-cost starting pitcher who could round out their depth chart in case Pettitte suffers an injury. Another would be to change their stance on Pettitte and block him from participating in the WBC at the last minute.
The Yankees did something similar with Alex Rodriguez in 2009. He was set to represent the Dominican Republic, but doubt was cast on his status when problems arose with his right hip.
When those problems arose, the Yankees stepped forward and made it clear that it was their call whether A-Rod would play in the WBC. They would not be overruled by either Rodriguez or Major League Baseball.
As it turned out, Rodriguez didn't end up playing in the WBC that year, as it was ultimately decided that his ailing hip needed surgery. But him not playing ended up working out, as he returned to hit 30 homers in 124 games in 2009 and then led the Yankees on a charge to their 27th World Series title.
The Yankees surely will put their foot down again if something similar happens with Pettitte. They'll have him to themselves for a few weeks before the start of the tournament, meaning there will be time for general soreness and other run-of-the-mill spring training issues to arise.
If such issues do arise, the Yankees will have the excuse they need to err on the side of caution with Pettitte, just as Joe Girardi said they were going to do with A-Rod in 2009.
This isn't the only excuse the Yankees could use to bar Pettitte from the WBC. If one of their other starting pitchers gets hurt in spring training—CC Sabathia and Ivan Nova are candidates after missing times with injuries in 2012—the Yankees could move to keep their rotation as intact as possible by making sure that they're the only ones handling Pettitte's left arm.
Of course, there's always the possibility that the Yankees won't wait for an excuse to bar Pettitte from participating in the WBC. They could have second thoughts between now and Team USA's first game on March 8. They could conclude that they're already pushing their luck hoping for innings out of Pettitte in 2013.
And they may be. The 2013 season will be Pettitte's 41-year-old season, and only 16 pitchers in major league history have pitched as many as 190 innings in their 41-year-old seasons. The last two pitchers to do so—Tom Glavine and Greg Maddux in 2007—both failed to post an ERA+ over 100.
Pettitte himself hasn't pitched over 190 innings in a season in 2009, which was also the last season in which he made over 30 starts. He made only 21 starts in 2010, and he wouldn't have made it to 30 starts in 2012 even if he hadn't taken a hard line drive off his left leg in late June.
Yet the Yankees are hoping Pettitte will be able to cut it as their No. 3 starter anyway. If he can't, they'll be in a spot of bother in regard to their starting rotation.
The Yankees' overall starting pitching depth looks a little shaky beyond Pettitte. Phil Hughes is solid, but the Yankees have no idea what they're going to get out of Nova and David Phelps is inexperienced as a starter. Freddy Garcia is gone, and Michael Pineda won't be back until later in the season.
For Pettitte to earn his $12 million salary in 2013, luck is going to have to be on his side and everything will have to go according to the Yankees' plans. If he does indeed end up playing for Team USA, he will be removed from the Yankees' plans and will be put in a situation where bad luck could strike at any moment.
Regardless of the exact circumstances, the Yankees have two choices here: allow Pettitte to pitch in the WBC and quake in their boots every time he winds up, or take the safe road and make sure their $12 million investment never leaves their care.
For now, the Yankees seem to be cool with the idea of Pettitte representing the stars and stripes this spring. However, they must keep in mind that Pettitte works for them, not for the good old U.S. of A.
It would strike some as being borderline traitorous, but the Yankees choosing to protect their $12 million investment would be totally justifiable.
Note: Stats courtesy of Baseball-Reference.com unless otherwise noted. Salary and payroll information courtesy of Cot's Baseball Contracts.
If you want to talk baseball, hit me up on Twitter.
Read more New York Yankees news on BleacherReport.com