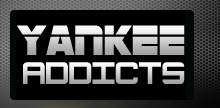 November 5, 2010 · Dan Hanzus · Jump to comments
Article Source: Bleacher Report - New York Yankees
There's a funny Twitter hashtag making the rounds this week called #tweetyour16yearoldself.
As you've probably already deduced, the idea is to send yourself an imaginary tweet—I suppose my message would show up on a beeper, or at a creepy AOL chatroom—that provides you a heads up on future events.
A few examples:
Don't grow attached to Crocodile Hunter. #tweetyour16yearoldself
Hold off on getting that Third Eye Blind tattoo. #tweetyour16yearoldself
Do not see the Pearl Harbor movie. #tweetyour16yearoldself
If I could tweak this theme and make it #tweetyour2007self, this one would probably be right up there:
Don't invest in Joba Chamberlain memorabilia. Will be mop-up man by 2010 playoffs. #tweetyour2007self
Receiving that message probably would've knocked 2007 me off my chair. After all, back in 2007, most fans believed Chamberlain's career was heading in one of two trajectories:
1. Joba was the next Roger Clemens.
2. Joba was the next great Yankee closer.
We all know how the last three years played out. Chamberlain couldn't hack it as a starter, and as a reliever he only intermittently flashed the promise of his summer of '07. In 2010, he couldn't win a rotation spot in spring training, then butchered his way out of the Eighth-Inning Guy role during the regular season by pitching to a 4.40 ERA. Something insane called "The Joba Rules" was sprinkled through the entire process.
Eyebrows were raised when Joe Girardi didn't even use the right-hander in the ALDS sweep of the Twins. By the time Chamberlain saw a mound it was the ALCS, it was in low-pressure spots where the game had already been decided.
You could even make a case that Girardi's loss of faith was a major reason behind New York's ALCS loss. If you recall, it was Chamberlain who was warmed and ready in the Yankee bullpen when Girardi made the fateful decision to allow A.J. Burnett to pitch to Bengie Molina in the sixth inning of Game 4.
Molina's eventual three-run homer was the "Oh crap" moment of the series, the exact moment you realized the Yankee season probably wasn't going to last into November. Burnett hadn't been on the mound in 17 days and was coming off a season in which he posted the worst ERA of any starter in Yankee history. And yet, he was still decided to be the better option than Joba Chamberlain.
If you knew the promise that once accompanied Chamberlain, this was an incredible reality.
Chamberlain eventually did enter Game 4, allowing a run and three hits in getting four outs. I wrote that night we had probably just witnessed his last appearance in pinstripes.
Removed from the emotions of the playoffs, I still believe that. Chamberlain's luster has dulled considerably, but it's conceivable that another organization will remember the electricity of his '07 debut, see no major medical issues and will be willing to take a flyer on him as a reclamation project.
If you're Brian Cashman, what's to keep you from cutting the cord?
Again, if you would have told the 2007 me that I'd be writing this post this morning, I would have punched you right in the face then explained my stance on violence toward crazy people.
But now? Dumping Joba doesn't seem so crazy. In fact, it kind of seems like everyone involved could use a fresh start.
Dan Hanzus writes three columns a week on his New York Yankees blog, River & Sunset. He can be reached at dhanzus@gmail.com. Follow Dan on Twitter @danhanzus.
Read more New York Yankees news on BleacherReport.com