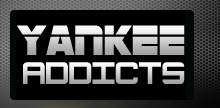 April 12, 2010 · Bronx Baseball Daily · Jump to comments
Article Source: Bleacher Report - New York Yankees
Just one year ago, the crop of pitchers expected to hit the free agent market was pretty impressive: Roy Halladay, Josh Beckett, Cliff Lee, Brandon Webb, among others.
But elite starting pitchers are a rare commodity, and teams have been aggressive in locking these guys up.
Now that list is just down to Cliff Lee and Brandon Webb. But Webb is a serious injury concern and probably won't even warrant a long-term deal, which leaves just Lee, as expected, to hit the free agent market. Things won't be better in future free agent classes for awhile, too.
As Joel Sherman of the NY Post points out, Zach Greinke, Matt Cain, Josh Johnson, Gavin Floyd, Felix Hernandez, John Lester, and Justin Verlander are all locked up for at least the next couple of years.
This brings us to Sherman's point: Because of the lack of prime-age free agent pitchers hitting the market in the next couple of years, it becomes even more important that the Yankees farm system develop good pitchers. If they fail to do that, they're going to have to turn to overvalued or under-seasoned pitchers on the free agent market.
It's a good point, and even though CC Sabathia will probably be around for six more years (unless he opts out), AJ Burnett will also be around and will probably face a steeper decline than Sabathia. After that they have no current pitchers that can be counted on long-term. Andy Pettitte and Javier Vazquez will be retiring or possibly leaving via free agency soon, and Phil Hughes is still no lock for future rotations.
If they could turn to the minor leagues and get production out of guy like Zach McAllister , Jeremy Bleich , Manny Banuelos , Jose Ramirez , or Andrew Brackman among others, it would go a long way in keeping them from being forced to search through a thin free agent market.
The key here could be the many injured pitchers in the Yankees organization—guys like Dellin Betances , Brett Marshall , George Kontos , Alan Horne , and Christian Garcia . If one or two of them could possibly turn around their fortunes, it would go a long way in helping the Yankees in developing pitchers.
Their days of trading young prospects like Arodys Vizcaino should be over, too. The trade for Vazquez was a good one, but any more like that will leave the Yankees system barren. They need to avoid doing so in the future until they're stocked a little more deeply.
Related Stories
Read more New York Yankees news on BleacherReport.com